Wind Forecast Wednesday With Remains Of Ida
Severe Weather
Justin Berk
Aug 31, 2021
5:40 pm
0
Tuesday Afternoon August 31
Ida is a Post Tropical Cyclone. It is no longer a hurricane or tropical storm. The core Low we refer to as the remnant Low or Ghost of Ida is now entering Tennessee. Tracking this is complicated by a stalled frontal boundary in our region.
Below you can see the afternoon satellite loop, Live Radar Widget, and wind forecast maps.

Surface Weather
The interaction with that front will help determine the path, but also the wind flow. 
There will be gusty winds, and pockets of storms will high higher gusts and severe components (gusts to 60 mph or tornados). 
Satellite Loop: True Color
The broad circulation is still evident at cloud level, as seen this afternoon. 
Live Radar Widget
Wind Forecast Wednesday 
The models are still trying to pin down the path of the surface Low, which may get disconnected from the wind field aloft.
Winds may not be noticeable until the afternoon. Then they will increase through the evening and at night with the passage of the core Low.
The Southeast Wind expected to build across the Chesapeake Bay in the afternoon. That should help feed into the risk for severe storm development.
Severe Storm Risk
Wind Animation: 8 AM Wed to 8 AM Thu
Wind Gusts?
This is where we see a wide range form the two top performing models. The American GFS Model is reasonable, while the European Model is on the high extreme. This may be including severe storm expectation.
See the difference:
GFS Model Max Wind Gust Forecast
A safe bet most of our region gets 30 mph winds.
ECWMF Model Max Wind Gust Forecast
This seems a bit extreme and I have my doubts.
But this may include individual storm cells with severe components.
Main Notes:
Flash Flooding is expected

Rainfall may be widespread over 2 inches.

Some areas may receive over 4 inches, especially west and north of Baltimore.

Higher rainfall north and west of the Low AND with severe storms cells.

Watches may be issued for Severe Storms or Tornados. That will be for 'potential'. A 'WARNING' will be only when it is spotted and plotted through a town.
See More In My Prior Report:
What to Expect From Ida on Wednesday 
INTERACTIVE WEATHER PAGES
14 Local Maryland Pages (and York PA)
We have made a page for Maryland Weather which gives you the current conditions for 14 present area locations.
Local Hourly Forecasts and Local Radar
Central Maryland
Delmarva
Pennsylvania
Maryland Trek Gear

Maryland Trek 8 Says THANK YOU!
Running Total Raised $116,438
During 329 Miles From Wisp To Ocean City
To Honor Kids In Cancer Treatment and Support FREE Programs At Just In Power Kids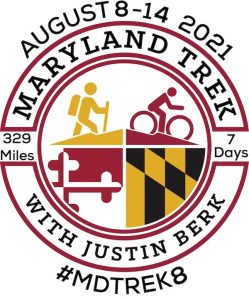 Please share your thoughts, best weather pics/video, or just keep in touch via social media