July 23 Rainy And Much Cooler After Fatal Storm
Severe Weather
Forecast
Justin Berk
Jul 23, 2019
12:00 am
0
Tuesday July 23 2019
After the eruption of tremendous fatal storms on Monday, today there will be extensive clean up. I posted this photo last night from Bloom Road in Finksburg Maryland. Mr. Swann, an elderly man down the road, died  after trying to clear a fallen tree. He was 89 years old and was born on that road.  This storm bombarded the entire neighborhood. The woman in this photo is my wife standing next to two trees with 8 foot diameter trunks that were pushed over knocking down one of her long fences.
Shannon has property there and went to survey it.  The damage is extensive, with live wires still on the ground this morning. She along with the residents are simply in shock by the power of what blew through. On a side note, a tree was struck by lightning there  just a few weeks ago.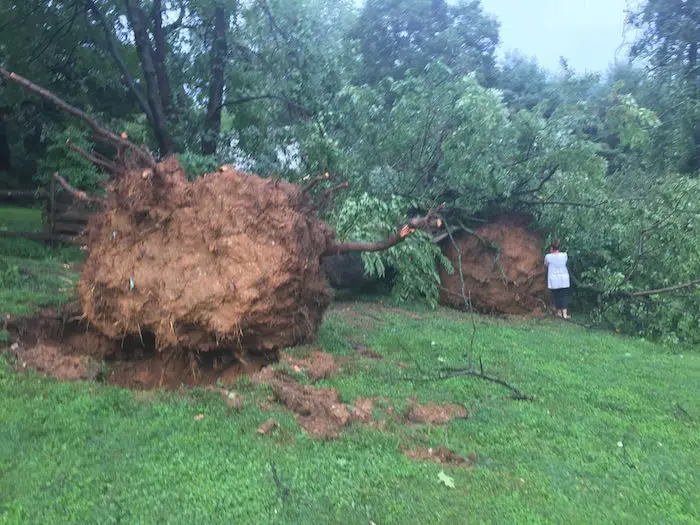 This was Doppler Radar and the Velocity Scan at 3:40 PM. There was a Tornado Warning at the time. This looked like a microburst with winds over 70 mph. All of the tree damage was pushed and fallen in the same direction. The type of event can be more destructive than. twister since it covers a larger area.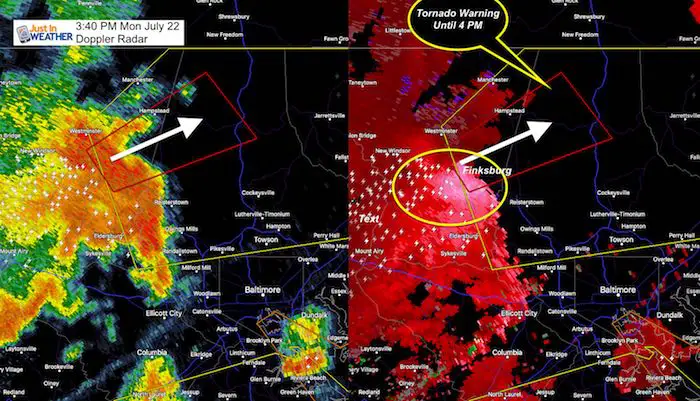 [adrotate group="4″]
Weather Today
Much cooler weather behind this cold front. It is slow moving and rain will be rolling along it. The heaviest rain locally today will move towards Ocean City. The strongest storms will be Virginia Beach and southward.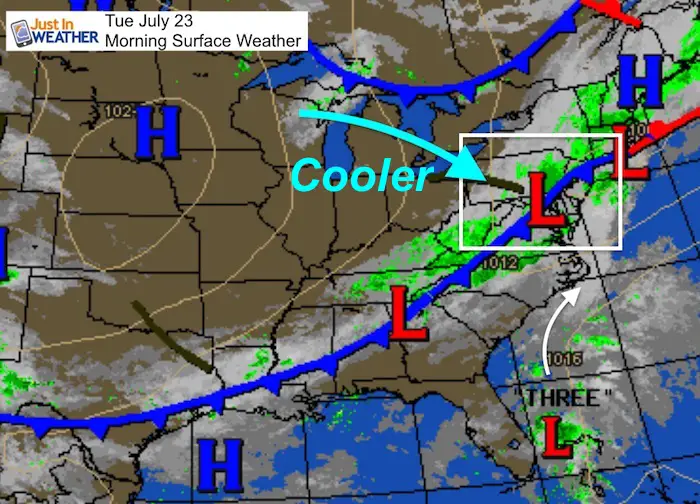 Local Weather Stats: Tuesday July 23, 2019 in Baltimore
Average High:  87ºF
Record High: 102ºF in 2011
Average  Low: 67ºF
Record Low:  57ºF in 1977
Sunrise: 5:58 AM
Sunset 8:26 PM  
*Daylight = 1:36 shorter than yesterday 
*Bay Water Temperature = 84ºF at Thomas Pt. Light House 
Keep In Touch Every Day
Just in case you don't get all posts on your social media feed, stay up to date with the latest info…
Click here to sign up for email alerts…. Be the first to hear any new weather
Morning Weather
Temperatures
For the first time in days, many are in the 60s. Today likely to stay in the 70s… Cooler than the many have seen since Friday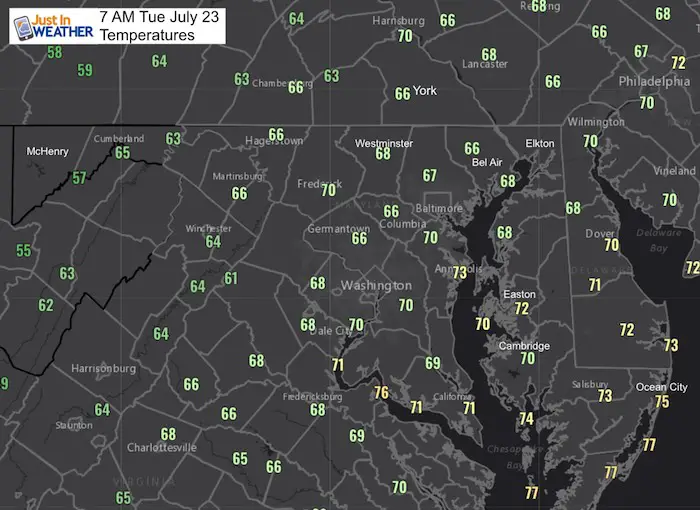 Radar Loop (2 Hours)
Rain Simulation –> slider
[adrotate group="4″]
High Temperatures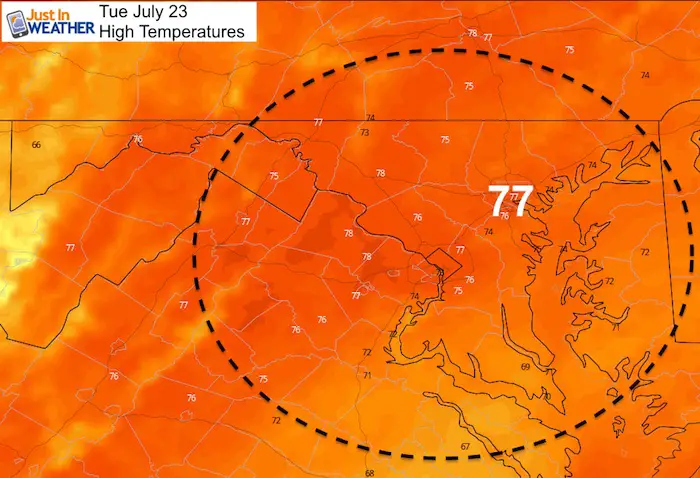 Rain Animation
Rain continues to move south. The Tropical Depression will stay off of the coast thanks to this strong cold front. We should remain nice and dry through the weekend.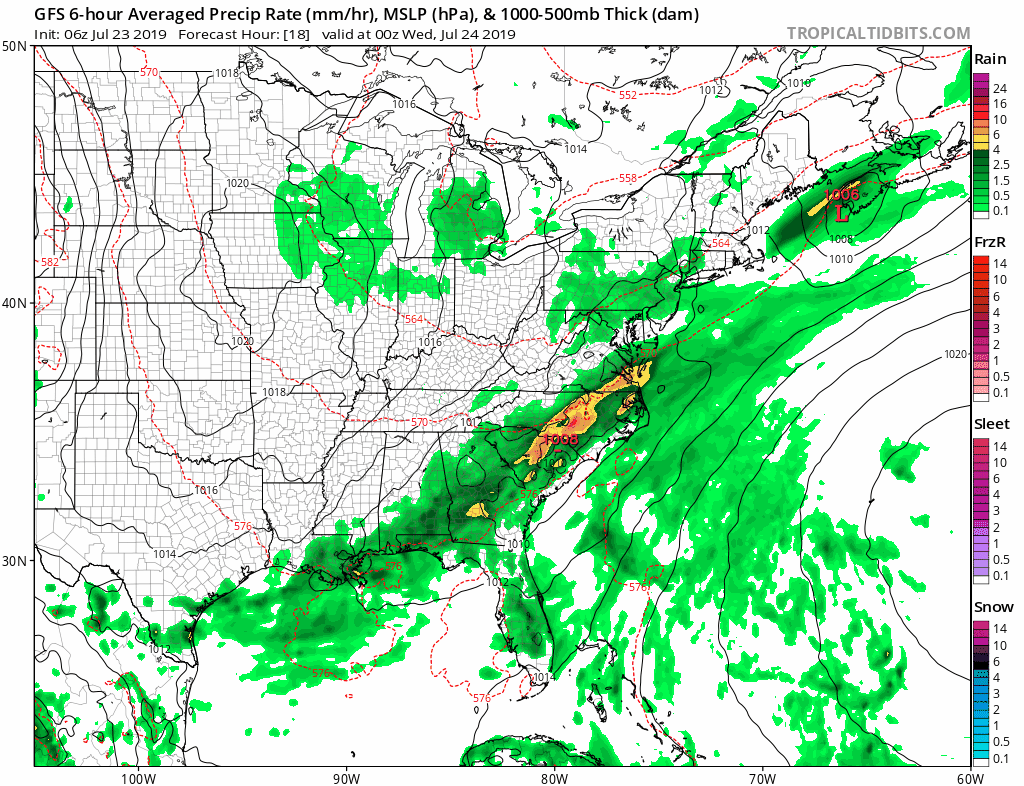 [adrotate group="4″]
Temperature Outlook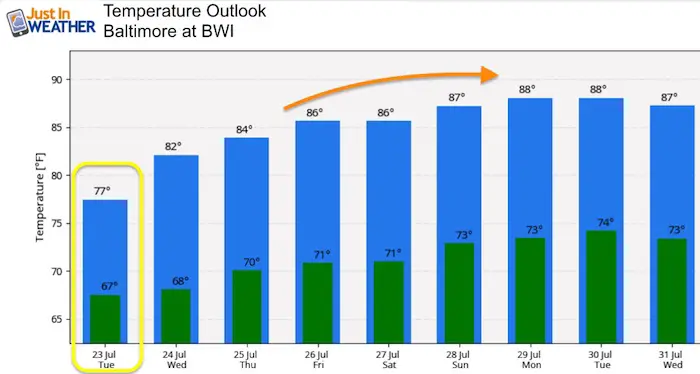 Please share your thoughts, best weather pics/video, or just keep in touch via social media
Bring Your Kids To Join My Team: Maryland Trek 6
Kids Trek Too!
Bring Your Kids To Join My Team This Summer
Click the logo for more information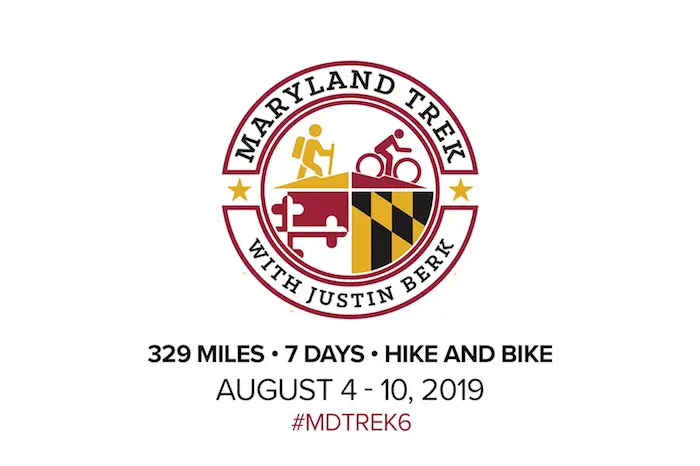 Support Our Nonprofit:
Proceeds go to our programs Providing FREE holistic care for kids in cancer treatment and up to 5 years post treatment and caregivers.
Shine On
Proceeds from all sales go to Just In Power Kids. Click the image to shop and show your support.
Love Maryland Shirts and Hoodies
This shirt was designed by my 'bonus' daughter Jaiden. The hoodie has been the biggest hit, so our promotion has been extended until the end of this week. 
Show your love for Maryland and make this 14 year old artist and her mom extra proud