Thursday June 20 Storm Simulation Update
Severe Weather
Forecast
Warnings
Justin Berk
Jun 20, 2019
12:00 am
0
Thursday June 20 2019
At noon there has already been a large cluster of heavy rain in southern PA. This was more impressive than the short term models suggested. So, we may be able to extrapolate that for the rest of the day. See the comparison of the mid day radar to the model simulation below.
If you read my morning report, then some of this might be a repeat: We have a risk for severe storms today. Much of this week we have had storms, and yet some areas remained dry. More areas will get in on the action today, and any of those shower or storms that develop can turn severe. These storms will also have the potential produce  flash flooding.
Severe Storm Qualifier:
Winds over 58 mph

Large hail over 1 inch diameter

Isolated Tornado
Potential alerts to be issued:
Severe Thunderstorm Watch: A broad area and window with a 4 to 6 hour time frame. This means it MIGHT happen.
Severe Thunderstorm Warning: A focused area like a county usually with a 30 to 60 minute time frame. This means it IS HAPPENING NOW.
Tornado Warning: A focused area and time frame. This would list towns in a likely path within a 15 to 45 minute window.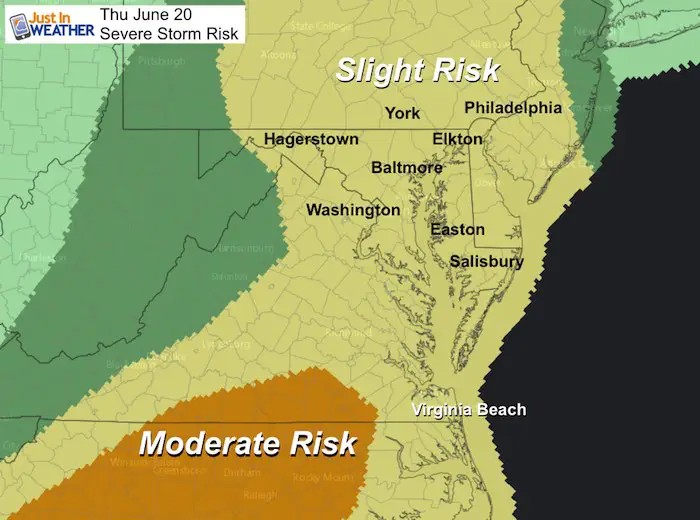 [adrotate group="4″]
Radar Snapshot At Noon
Notes: The rain in south central Pennsylvania is more impressive than the short range models expected. This will continue to move northeast.
The southern edge of this cluster is where the next round of development will take place. This may be between Frederick and Carroll Counties between noon and 2 PM.
Radar Simulation Timeline  —> slider
Afternoon
Notice the first image at noon underestimated the rain cluster in Southern Pennsylvania.
This forecast is a guide but not perfect. Use this for timing and general location of development. In this case, we will watch the region shown above shifting to between York and Baltimore. That will move to Harford,Cecil, and Kent Counties in Maryland.
[adrotate group="4″]
Radar Simulation Timeline —> slider
Evening/Tonight
A residual boundary, perhaps outflow from the earlier storms may linger around Rt 50 between Washington, Annapolis, and the Eastern Shore. More activity is expected to flare up through tonight where this is established.
Join My Team: Maryland Trek 6
Our look got an upgrade, but we have the same purpose. Please click the logo take a look at our new page.
Consider joining our team for the week, a single day, or even as a sponsor.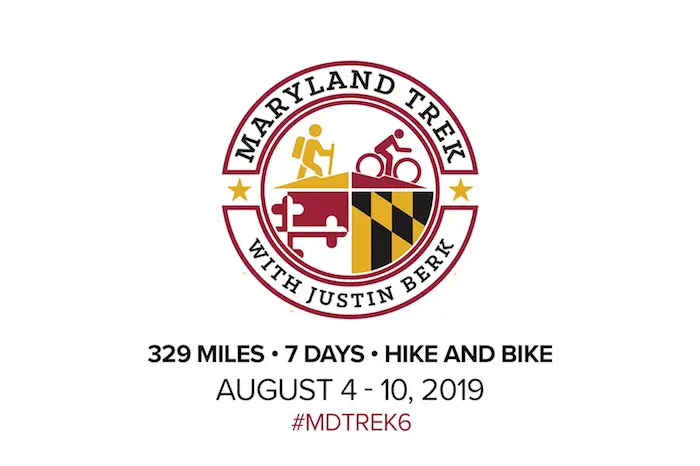 Kids Trek Too!
Bring Your Kids To Join My Team This Summer
Click the logo for more information
[adrotate group="4″]
Support Our Nonprofit:
Proceeds go to our programs Providing FREE holistic care for kids in cancer treatment and up to 5 years post treatment and caregivers.
Shine On
Proceeds from all sales go to Just In Power Kids. Click the image to shop and show your support.
Love Maryland Shirts and Hoodies
This shirt was designed by my 'bonus' daughter Jaiden. The hoodie has been the biggest hit, so our promotion has been extended until the end of this week. 
Show your love for Maryland and make this 14 year old artist and her mom extra proud
Please share your thoughts, best weather pics/video, or just keep in touch via social media