2 PM Saturday Storm Update
Quick Weather Notes
Justin Berk
Oct 16, 2021
2:13 pm
0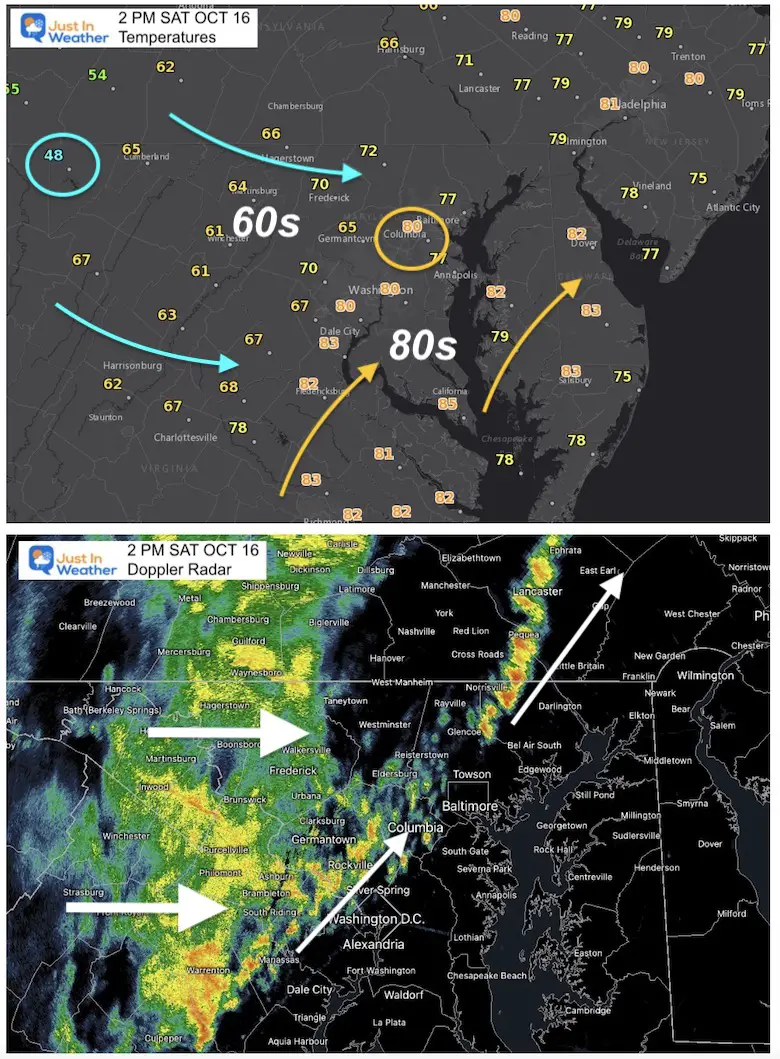 First The Temperatures
Now dropping into the 40s in western Maryland at Deep Creek Lake!
Central Maryland 70s to some 80s into So. MD and Delmarva.
Rain will drop into the 60s.
BWI hit 82ºF last hour, now at 80ºF, but it won't last long with rain on the doorstep.
Radar
There have been two lines of rain.
The initial line has been broken but intense rain… Just north of Bel Air, but it should rain there by 2:30 PM.
This fills back in around Catonsville through Howard County. 
Baltimore, Glen Burnie, Dundalk should get wet in the next 20-30 min.
The main line has steady rain lasting for about an hour or two. This is where temps really get chilly.
That has caught up to Howard County and Washington DC. 
Steady rain in Frederick and will move over metro Baltimore. 
Annapolis – Rain should reach you mainly 3 to 4 PM, while it expands to southern Maryland and Delmarva.
UPDATE FOR LIVE UPDATES
Click to See
May include newer posts. I will work for more local reports
All regional NWS Watches and Warnings
Home Page – Maps, Stats, and More
You can also tap my logo on the top of this page.