October 13 Foggy Morning Then Sun Returns With Warm Up
Forecast
Justin Berk
Oct 13, 2021
6:46 am
0
Wednesday October 13
It may not look much different this morning, but the afternoon will bring on the change. There is still a large region of fog and mist/drizzle to start the day, but we are losing that wind off the ocean. The result will be developing sun and a big warm up into the 70s.
Even warmer air Thursday and Friday. Then strong storms Saturday will bring back REAL FALL to end the weekend.
Morning Surface Weather
The weather maps is hung up with our stalled pattern, and a large storm in the middle of the nation. 
A snow storm just passed the Rockies, while a severe weather outbreak is expected again into the plains. That is what will bring us our stormy Saturday, and much cooler Sunday.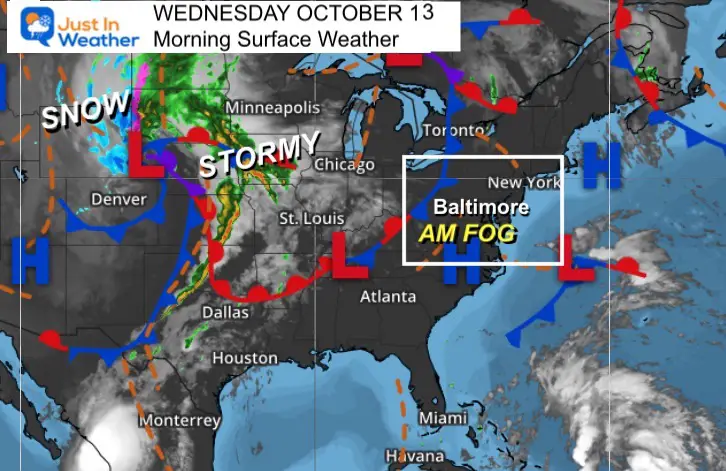 Dense Fog Advisory
A Dense Fog Advisory until 10 AM across the front ridge of the mountains.  This includes Fredrick MD to Stafford County VA.
There is still some fog and mist across metro Baltimore and the Bay, but slightly better visibility.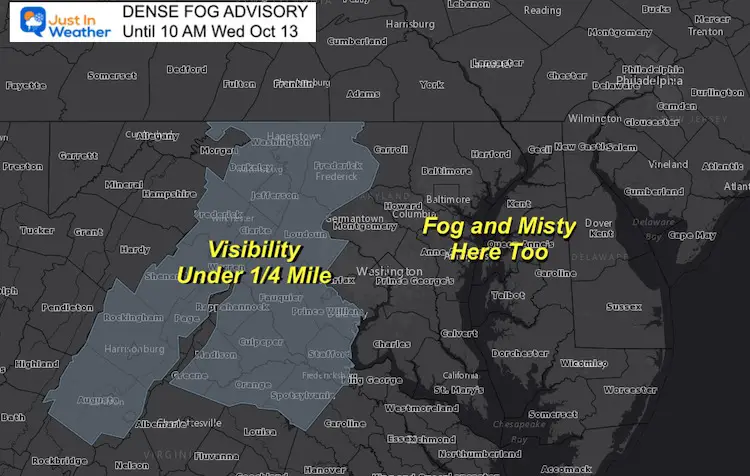 Morning Temperatures
The regional map now available on the Home Page of this website. Click this image to see this, which is updated every hour.  Also check out the regional map, winds, and radar. 
*This is the first phase. Much more expanded weather info will be added soon.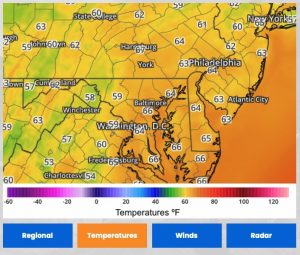 Current Conditions – Local Stations
The orange tab on the right will give you more local weather.  Look at the top of this page to change the location to an official MWS site near your.
If there is no climate data, it was not available for that airport.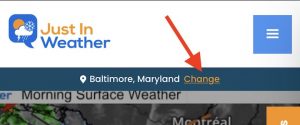 Afternoon Temperatures
Note: Our local Offical recording station at BWI tends to be warmer than models and surroundings.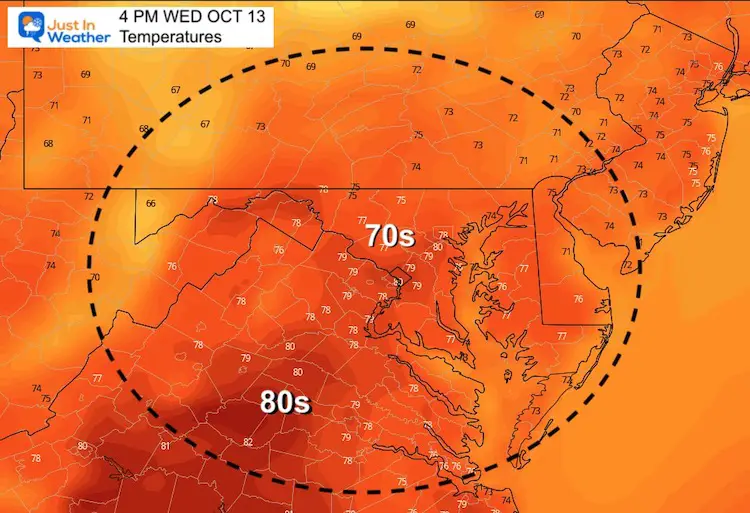 Weather Almanac: Climate Data
TODAY October 13
Normal Low in Baltimore:  47ºF
Record 32ºF in 2006
Normal High in Baltimore: 68ºF
Record 89º F 1954
Also See:
Sweating Weather To Sweater Weather

Temperatures Thursday
Morning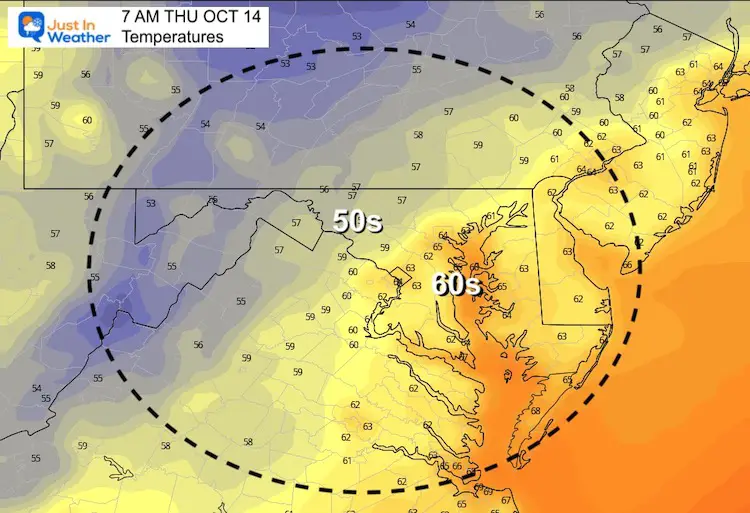 Afternoon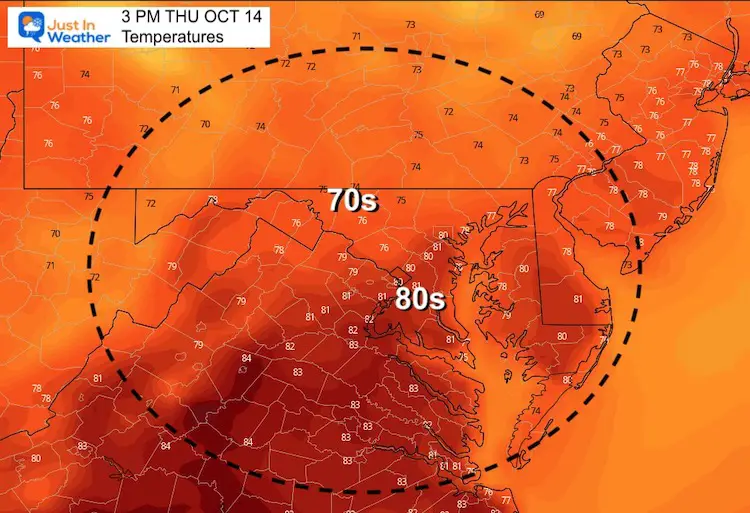 Weekend Change
As of now, the timing of the Cold Front should be during the afternoon. Here is a snapshot of 2 PM from the GFS Model.
A warm and windy start will be erased by a line of strong to severe T'storms. The temps will fall behind the front back to REAL FALL conditions by Sunday morning.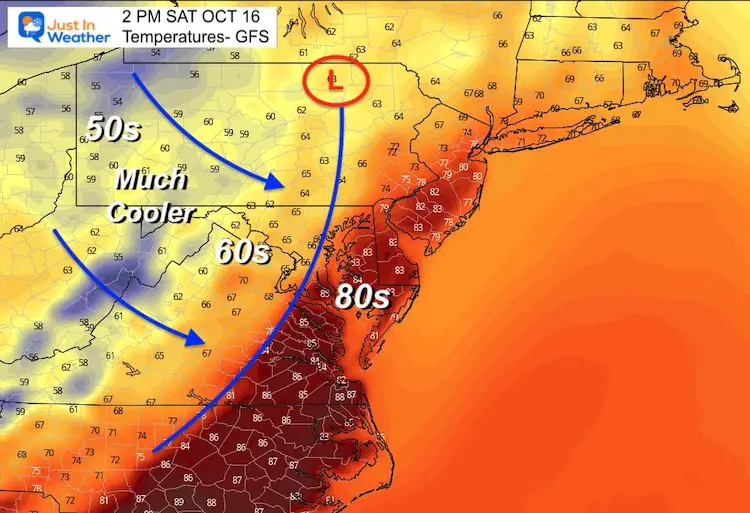 Weekend Temperature Animation:
8 AM Saturday to 3 PM Sunday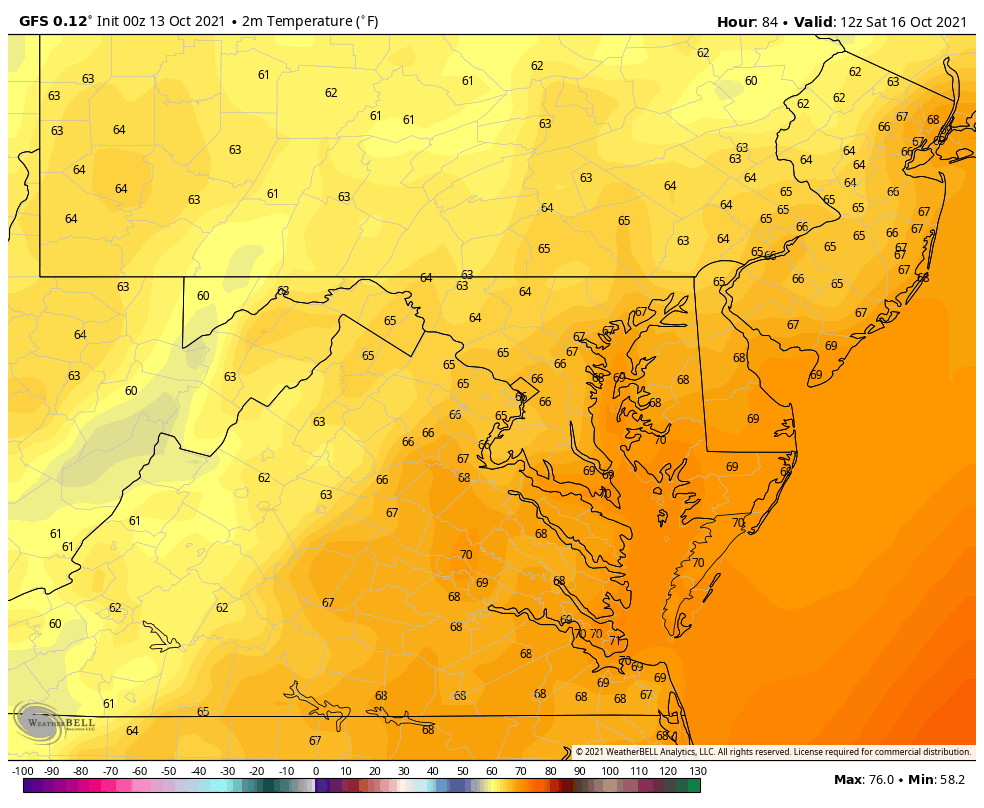 7 Day Forecast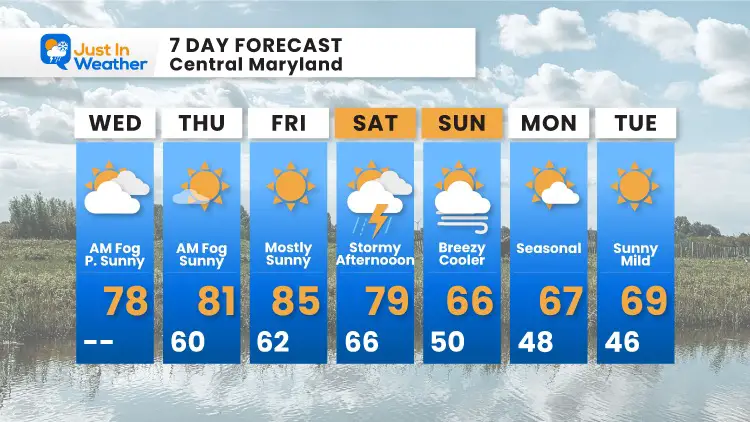 Maryland Trek Gear

Maryland Trek 8 Says THANK YOU!
Running Total Raised $116,438
During 329 Miles From Wisp To Ocean City
To Honor Kids In Cancer Treatment and Support FREE Programs At Just In Power Kids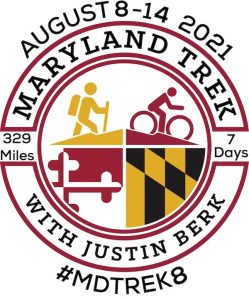 Please share your thoughts, best weather pics/video, or just keep in touch via social media