Flooding Rivers: Monocacy And Susquehanna For Conowingo Dam Rising Water
Flooding
Warnings
Justin Berk
Sep 2, 2021
6:20 am
0
Thursday September 2
Following the historic rainfall on Wednesday, we continue to monitor the water that flows down rivers.
This report is focusing on The Monocacy River in Frederick County and The Susquehanna River in Northeastern Maryland. There are two separate Flood Alerts this morning in Northeastern Maryland I wanted to pay extra attention to.
Flood Warning in Frederick along the Monocacy River- At Major Flood Stage.
Flood Watch for The Conowingo Dam- Still Rising.
Flood Warning in Harford and Cecil Counties.
Preliminary rainfall estimates show a large coverage from central Maryland and north with over 5 inches of rain.  Upstream there are many areas that received over 7 inches of rain.
Much of this water has to flow down to the Chesapeake Bay and out to the Atlantic. 
Storm Rainfall Estimate
River Forecast: Flood Monitoring
Closer Look
Flooding along The Monocacy, Potomac, and Susquehanna Rivers. All flow into the Chesapeake Bay.
Frederick County: Monocacy River Flood Stage
With over 7 inches of rain in northern Frederick County, this water flows down the Monocacy to the Potomac River.
Major Flood Stage was reaches at 5 AM. The forecast is to rise close to another 2 Feet by noon today.
Flood Alerts across Northeastern Maryland 
Local flooding may be close to peak or receding, but water levels are rising on some water ways such as the Susquehanna River.
Conowingo Dam: Flood Watch
Notice the water level rising this morning, many hours after the rain ended. No forecast given, but expectation to reach action stage this morning with the flow from Pennsylvania.
* Flood Watch from early this morning until further notice.
* At 4:30 AM EDT Thursday the stage was 18.1 feet, or 5.4 feet below
flood stage.
* Flood stage is 23.5 feet.
* Flooding is possible.
* Forecast…Flood stage may be reached based on the latest forecast
information.
* Impact…At 22.9 feet, Maryland Route 222 north of Port Deposit is
closed.
* Impact…At 23.7 feet, Minor flooding begins in the town of Port
Deposit, Maryland.
Harford and Cecil County: Flood Warning
* Until 900 AM EDT.
* At 442 AM EDT, local law enforcement reported ongoing flooding
  across the warned area. The stream gauge on Big Elk Creek near Elk
  Mills has exceed major flood stage.
* Some locations that will experience flooding include…
  Elkton…                          Aberdeen…
  Havre De Grace…                  Aberdeen Proving Ground…
  Calvert…                         Bel Air South…
  Bel Air North…                   Fallston…
  Riverside…                       Kingsville…
  North East…                      Pleasant Hills…
  Jarrettsville…                   Rising Sun…
  Perryman…                        Charlestown…
  Octoraro…                        Conowingo…
  Richardsmere…                    West Nottingham…
Full Morning Weather Report On The Way Shortly…
INTERACTIVE WEATHER PAGES
14 Local Maryland Pages (and York PA)
We have made a page for Maryland Weather which gives you the current conditions for 14 present area locations.
Local Hourly Forecasts and Local Radar
Central Maryland
Delmarva
Pennsylvania
Maryland Trek Gear

Maryland Trek 8 Says THANK YOU!
Running Total Raised $116,438
During 329 Miles From Wisp To Ocean City
To Honor Kids In Cancer Treatment and Support FREE Programs At Just In Power Kids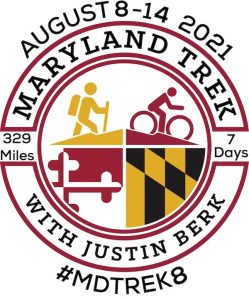 Please share your thoughts, best weather pics/video, or just keep in touch via social media