How Henri Is Expected To Impact The East Coast As A Hurricane
Tropics
Justin Berk
Aug 19, 2021
8:43 pm
0
Thursday Evening August 19 2021
Tropical Storm Henri has looped around Bermuda and is now making a turn up along the East Coast of the US. The might be a headline you have heard (or something similar), but I want to clarify what we expect with this storm and cut through any anxiety or hype.
Evening Snapshot
In the late afternoon update, Tropical Storm Henri had 65 mph winds. It was located 450 miles away from Cape Hatteras, NC.
The is expected to strengthen into a hurricane as it turns north up the coast. Landfall, might be in New England.
Highlights
Henri is not pronounced Henry. It sounds like 'ahn Ree'.
We will get rain on Friday, not from Henri. That boundary is what will help steer it though.

 

This storm is expected to pass 100 miles or more east of Ocean City, however models have trended west, which brings the track possibly over Cape Cod or mainland New England.

 

Winds may reach tropical storm speed along the beaches on Saturday, but expected to be much lighter inland.
Forecast models suggest Henri should reach Category 1 intensity.

 

Beaches! Henri is expected to become a hurricane with winds 75 mph or higher by Saturday. That will create rip currents for all the local coastal areas all weekend.

 
Close Up Satellite Loop
This symmetrical circulation traveling over warm water will allow Henri to intensify Friday and Saturday.
Friday Rain: Locally
4 AM to Midnight
Rain in the morning, then more storms across southern Maryland and lower Delmarva in the evening. This is NOT the tropical system, but a frontal boundary that is getting enhanced by ripples in the atmosphere from Henri still hundreds of miles away. 
Forecast Tracks
The European ECMWF Model
Here is a plot of all the members and the average or ensemble plot highlighted in the middle. Here we see the suggestion for the center to make landfall in New England. 
National Hurricane Center Forecast Cone
The center line here is simply the average of a wider area of potential. So there will be wiggle room for this tie track closer or farther from the coast. That is more of an issue upstream for New England. If there is a landfall, it would most likely be Sunday. 
Storm Animation: GFS Model
Rain on the edge of the tropical system may be heavy at times on Saturday, especially along the coast.  Farther inland, sinking air might actually turn this in to a nice day.  I will have more local details on the rain in my morning report.
Wind (over 35 mph) Arrival Time
There is about a 30% chance for tropical storm wind speed along the Delmarva beaches. If so, they would arrive by Saturday evening.
Ocean Waves Saturday
The core of the storm will be well offshore, but there will be rip currents. It is likely the local beaches will have safety restrictions during the weekend.
I will have more details in my Friday morning report, then local updates during the day.
Maryland Trek Gear
Maryland Trek 8 Says THANK YOU!
So Far We Raised $111,901
During 329 Miles From Wisp To Ocean City
To Honor Kids In Cancer Treatment and Support FREE Programs At Just In Power Kids
Sunshine State Of Mind
I am done with the cold and snow (for the season). I am embracing my wife's mantra of Sunshine State of Mind.
This was designed by Shannon Berk and we will be wearing it through spring and to the beach.
Double Benefit: Proceeds will be split between our nonprofit Just In Power Kids and the development of my new weather website. That has been scheduled to be ready to launch in May.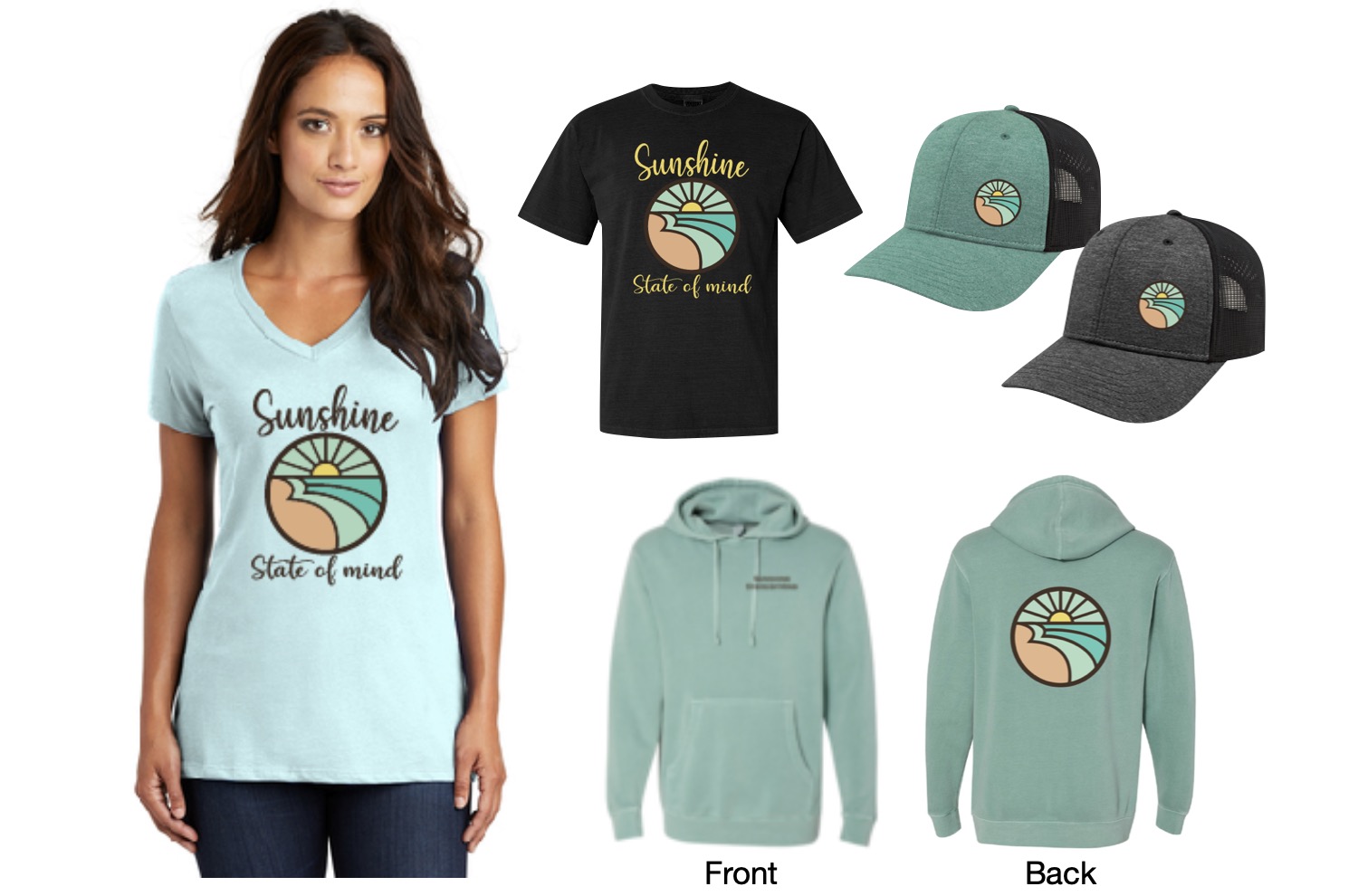 YOUR INTERACTIVE WEATHER PAGES
14 Local Maryland Pages (and York PA)
We have made a page for Maryland Weather which gives you the current conditions for 14 present area locations.
Local Hourly Forecasts and Local Radar
Central Maryland
Delmarva
Pennsylvania

Please share your thoughts, best weather pics/video, or just keep in touch via social media