August 18 Remains Of TS Fred Bring Severe Storm Risk
Tropics
Justin Berk
Aug 18, 2021
7:13 am
0
Wednesday August 18 2021
The remains of Tropical Storm Fred are moving up the mountains this morning and will pass by western Maryland.  The muggy air is a signal of the moisture and energy that will likely erupt in multiple rounds of heavy rain, with some severe storms.
This will reach central Maryland and along the Chesapeake Bay during the afternoon and evening. More storms farther west near the storm track, less and later farther east towards the beaches. 
Morning Surface Weather
The core of what was once Tropical Storm Fred is moving up the mountains. There is a lot of spin in the mid levels of the atmosphere. This is pulling lots of moisture with it on the east side.
It is very muggy this morning. The after may bring Watches and Warnings for severe storms.
Severe Storm Risk
During the afternoon and evening, strong storms may turn severe. The main threats:
Flash Flooding
Damaging Winds
Isolated Tornadoes

 
Storm Radar Simulation –> slider
12 PM to 10 PM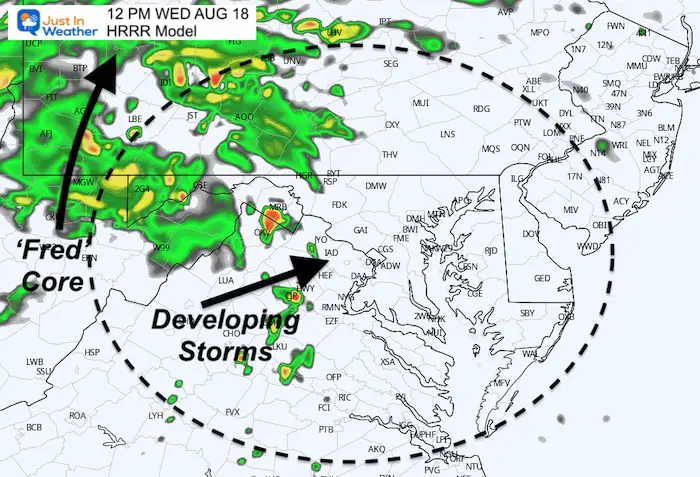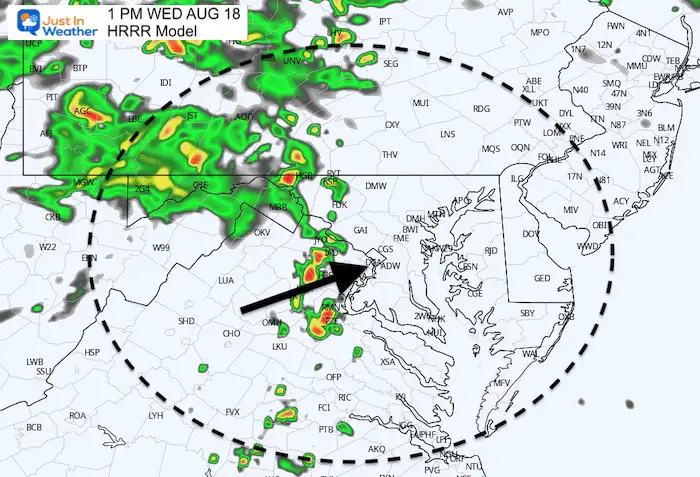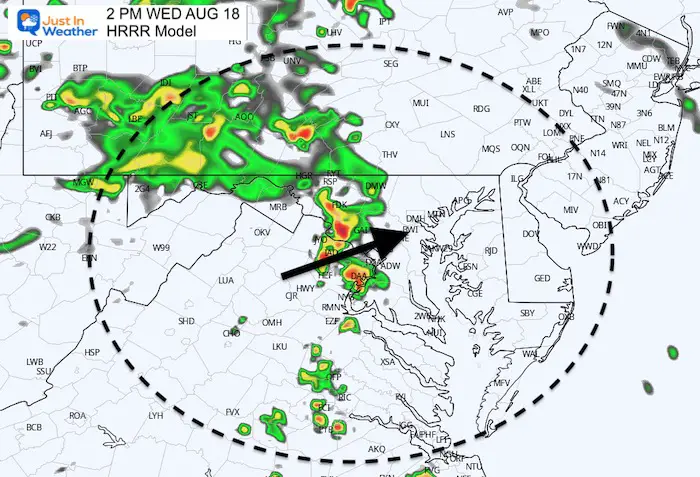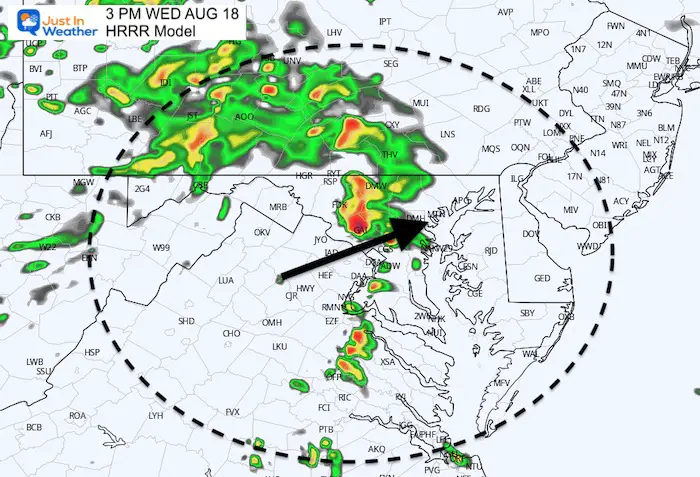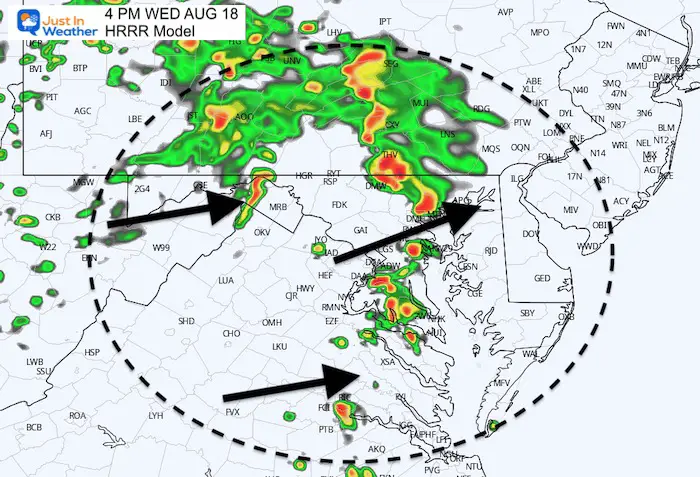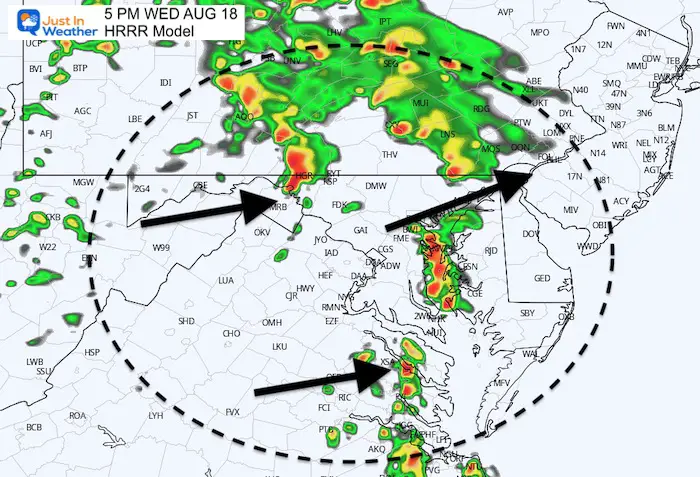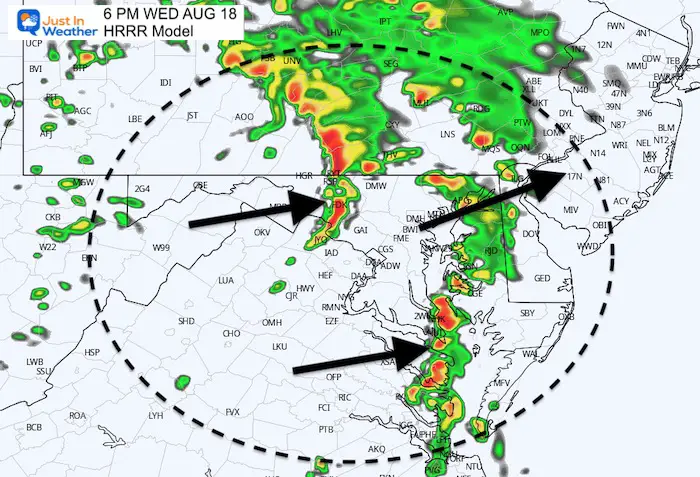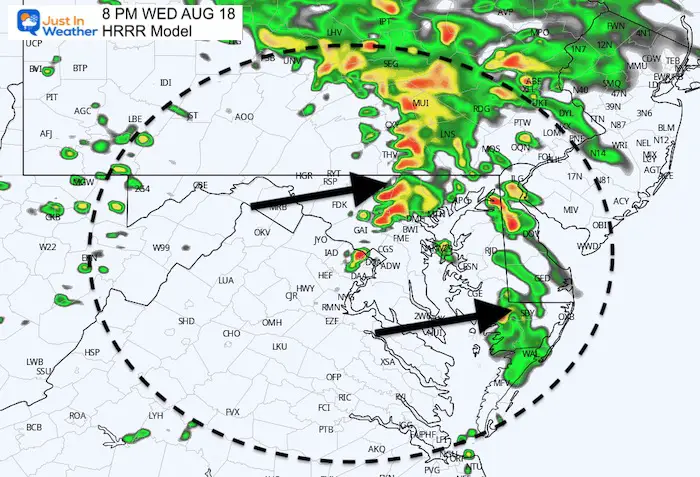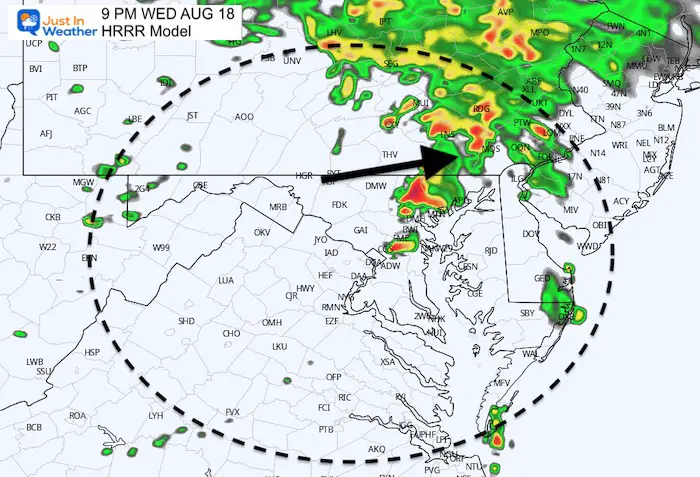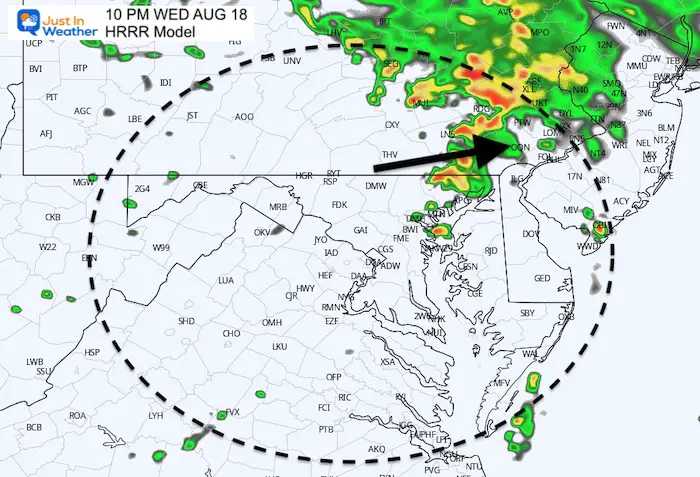 August_18_weather_radar_storm_Wednesday_PM_12
August_18_weather_radar_storm_Wednesday_PM_1
August_18_weather_radar_storm_Wednesday_PM_2
August_18_weather_radar_storm_Wednesday_PM_3
August_18_weather_radar_storm_Wednesday_PM_4
August_18_weather_radar_storm_Wednesday_PM_5
August_18_weather_radar_storm_Wednesday_PM_6
August_18_weather_radar_storm_Wednesday_PM_7
August_18_weather_radar_storm_Wednesday_PM_8
August_18_weather_radar_storm_Wednesday_PM_9
August_18_weather_radar_storm_Wednesday_PM_10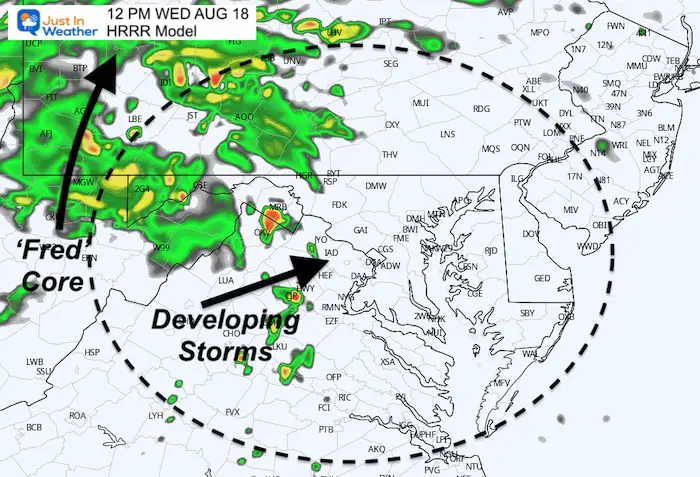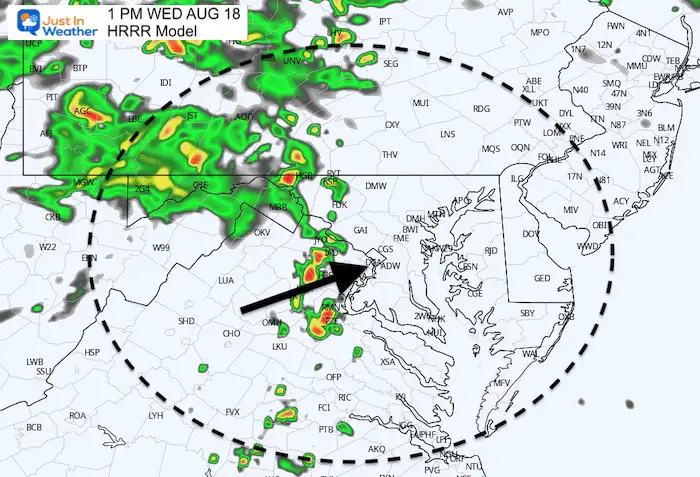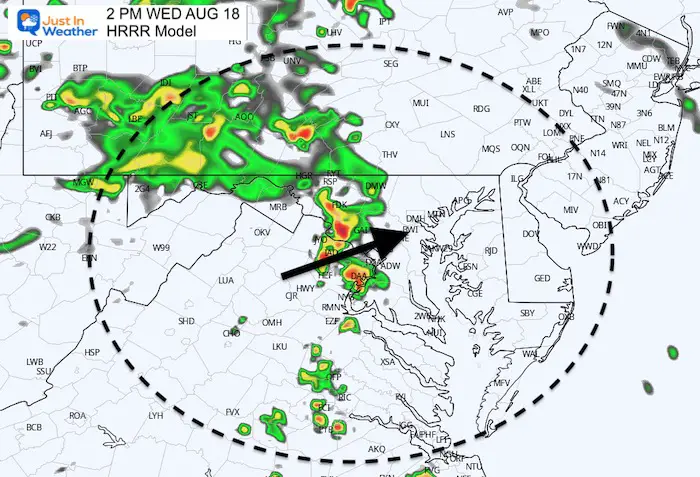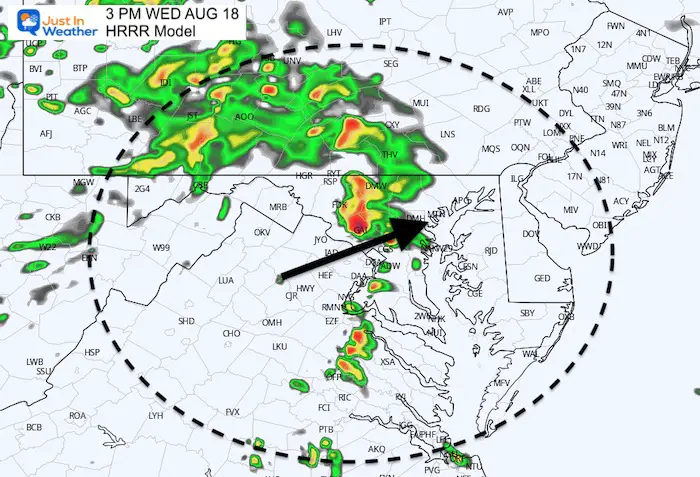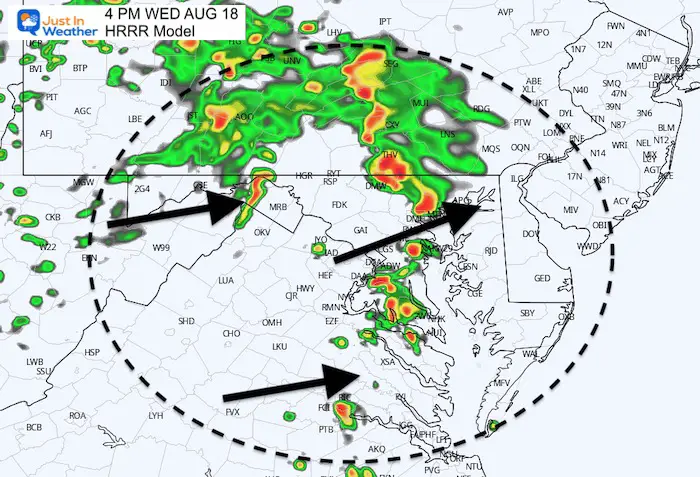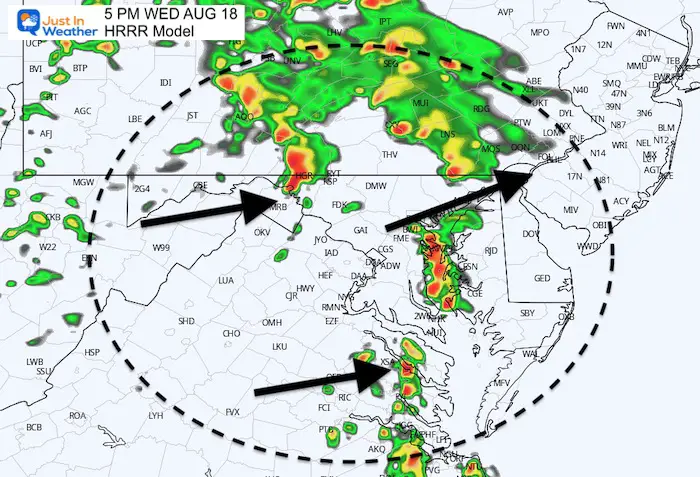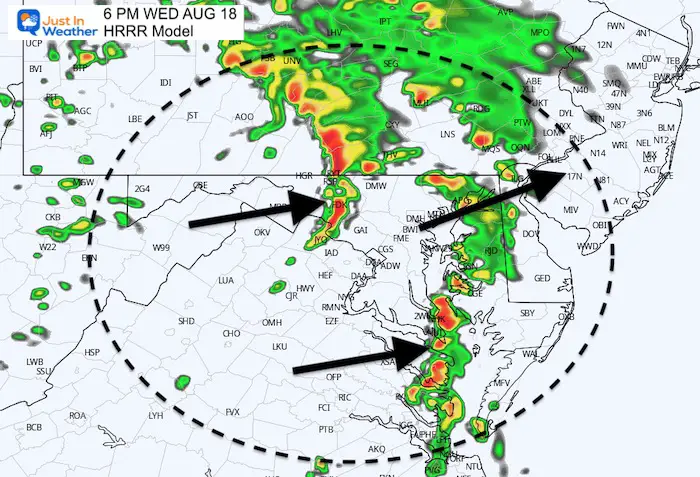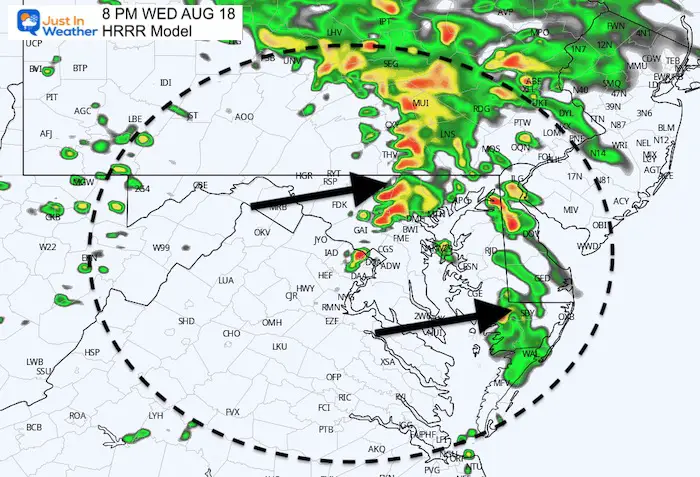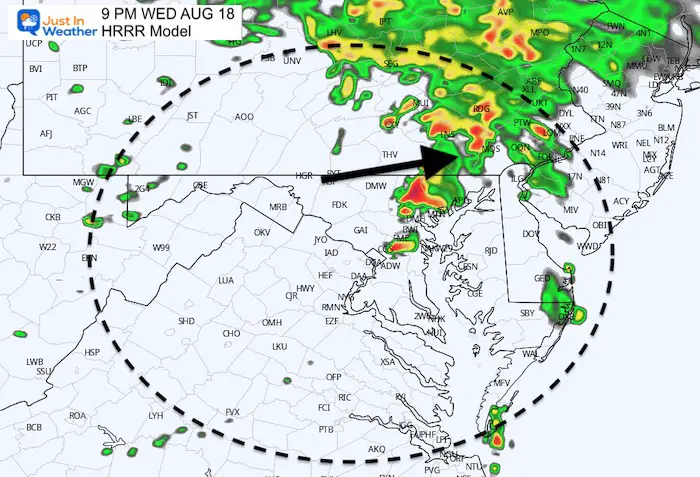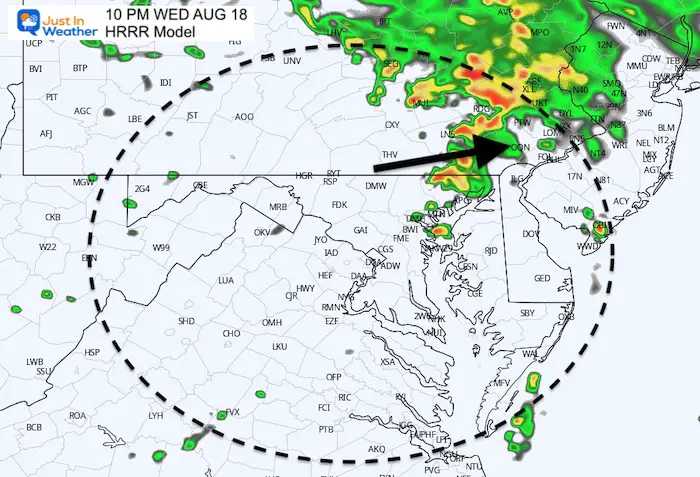 Rainfall Potential
There is a wide rain of possible totals spread across the models. I chose to show this to highlight the broad risk, but there may be pockets of heavy rain south of Baltimore as well depending on where lines of storms set up.
Weather Almanac: Climate Data
TODAY August 18
Normal Low in Baltimore:  65ºF
Record 51ºF in 1981
Normal High in Baltimore: 85ºF
Record 96º F 2019
Temperatures 
This Afternoon
7 Day Forecast
While this looks mighty wet, it really is a 'chance' of scattered storms most days.  There will be a cooling trend into the weekend.
Maryland Trek Gear
Maryland Trek 8 Says THANK YOU!
So Far We Raised $111,826
During 329 Miles From Wisp To Ocean City
To Honor Kids In Cancer Treatment and Support FREE Programs At Just In Power Kids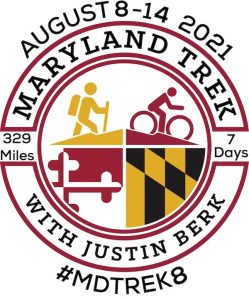 Sunshine State Of Mind
I am done with the cold and snow (for the season). I am embracing my wife's mantra of Sunshine State of Mind.
This was designed by Shannon Berk and we will be wearing it through spring and to the beach.
Double Benefit: Proceeds will be split between our nonprofit Just In Power Kids and the development of my new weather website. That has been scheduled to be ready to launch in May.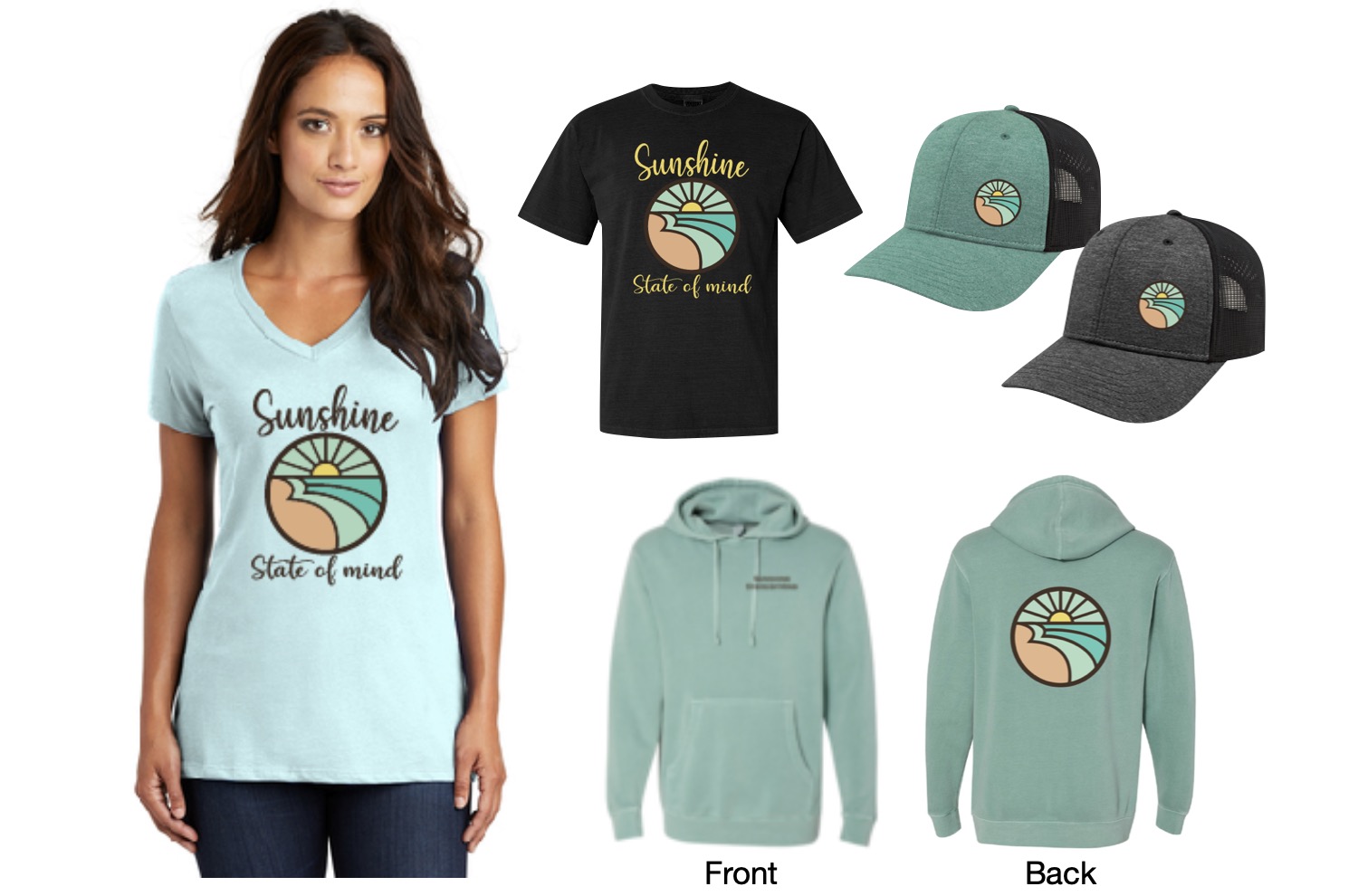 YOUR INTERACTIVE WEATHER PAGES
14 Local Maryland Pages (and York PA)
We have made a page for Maryland Weather which gives you the current conditions for 14 present area locations.
Local Hourly Forecasts and Local Radar
Central Maryland
Delmarva
Pennsylvania
Please share your thoughts, best weather pics/video, or just keep in touch via social media