Tropical Storm Watch In Southern Maryland And Dorian Gets A Little Stronger
Severe Weather
Forecast
Tropics
Warnings
Justin Berk
Sep 4, 2019
12:00 am
0
Wednesday September 4 2019
Hurricane Dorian is over the warm waters of the Gulf Stream and that has allowed it to regain a little strength. Winds are now back up to 110 mph. The forecast guidance just a little closer to the coast of South Carolina and landfall in eastern North Carolina. The impacts on Maryland will include higher water on the Bay and strong winds. This may reach as far north as The Bay Bridge. It will feel like a Nor'easter in central Maryland.
In this post I have new wind and wave forecast maps below.  Some surge and erosion expected on the beaches. Also the latest satellite loop of Dorian.
Hurricane Dorian after Vapor Satellite Wednesday Evening
Notice how the clouds reach much farther north of the center. This is the onshore flow from the ocean. This is what will continue for the next two days.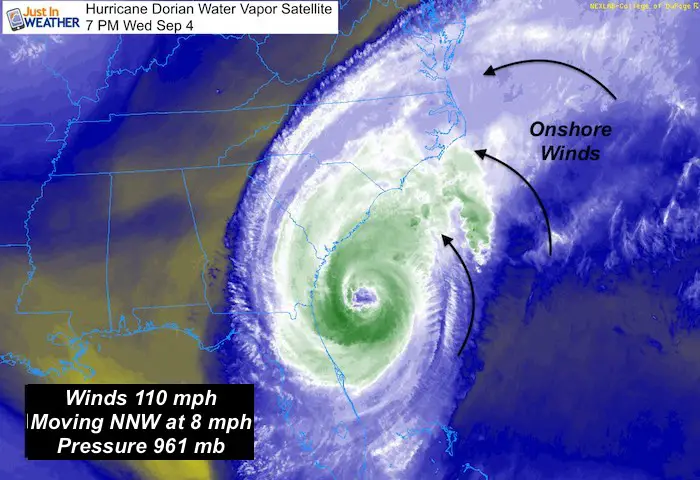 [adrotate group="4″]
Also see: Atmospheric Memory Of Hurricanes Over Thousands Of Years Shaped The Coast
Headlines:
Tropical Storm Watch includes southern Maryland

Hurricane Dorian is a Cat 2 with 110 mph winds

Hurricane force winds reach 70 miles from the center
Tropical Storm force winds reach 195 miles from the center

Track is close to Charleston, SC, may make landfall in NC

Impact for Ocean City highest on Friday: Winds 40 to 60 mph
Warnings, Watches And Advisories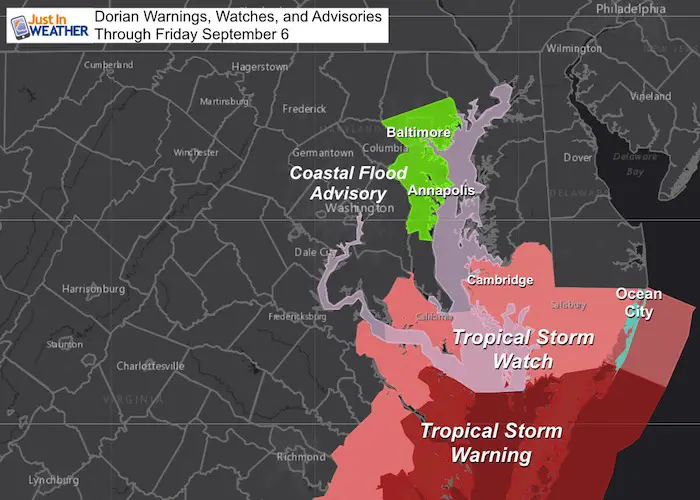 [adrotate group="4″]
The growing size of the wind field will reach into southern Maryland. That is why a Tropical Storm Watch has extended into the lower Eastern Shore (Dorcherster, Wicomico, Somerset, and Worcester Counties) and St. Mary's County for Friday.
Coastal Flood Advisory has been issued for Baltimore and Anne Arundel Counties.  This is the sloshing on the Bay I mentioned for the past few days. This will be before the Hurricane gets close. First the easterly winds dominate, then the will shift from the north as the storm passes by. This may help drain water down out of the Bay on Friday.
The closest pass will likely be Friday afternoon and evening. But we need to look at the storm now to see the impacts will begin as soon as tomorrow.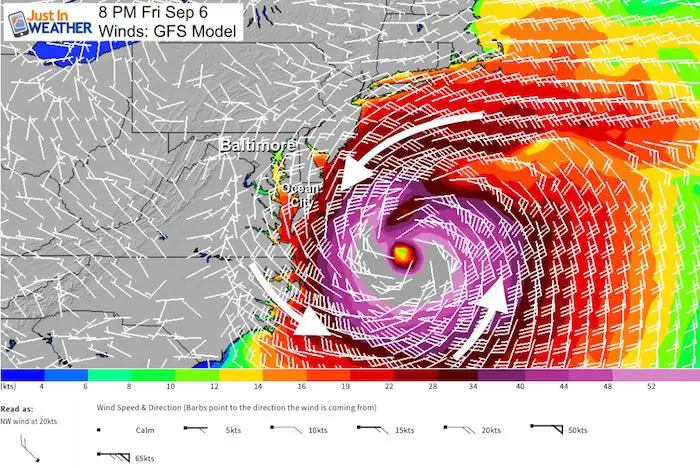 Hurricane Dorian IR Satellite Loop Wednesday Evening
The eye looks better organized as warm water is feeding energy into Dorian.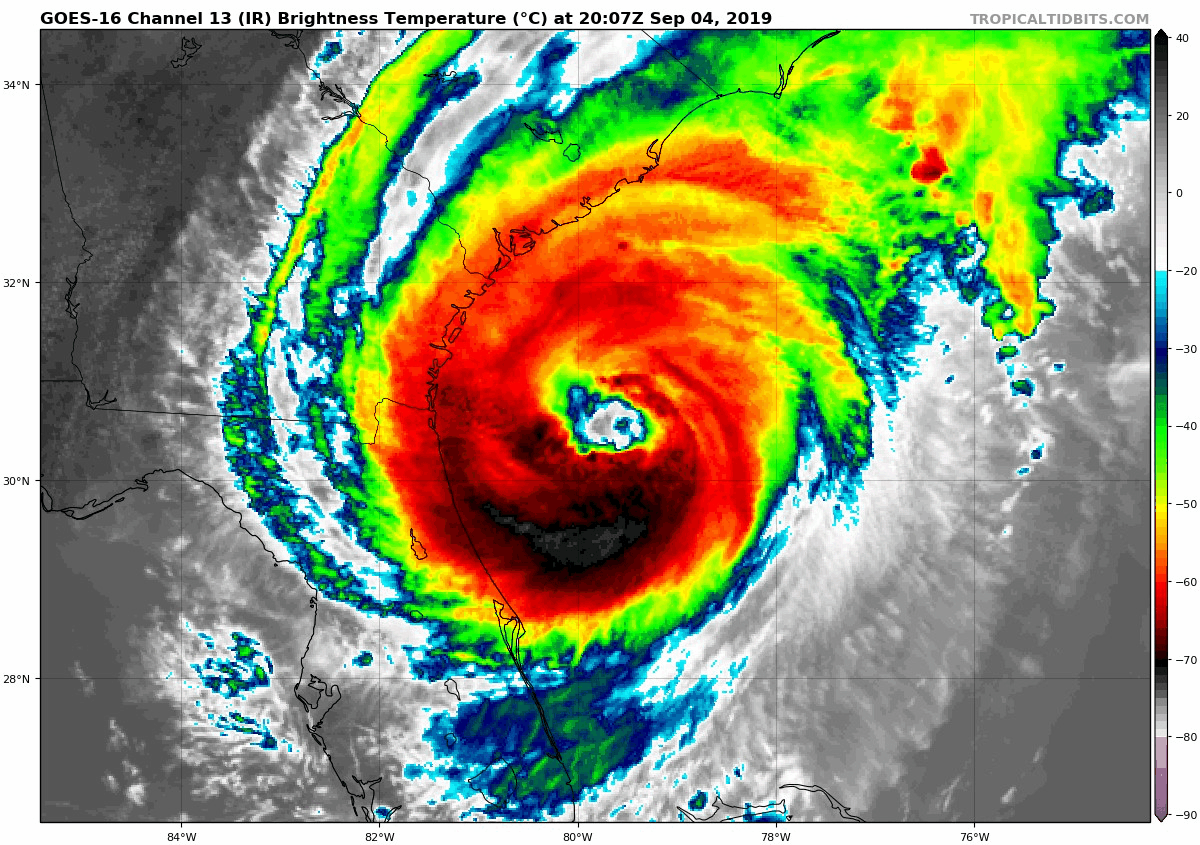 Forecast Maps
NHC Forecast Track, Watches, and Warnings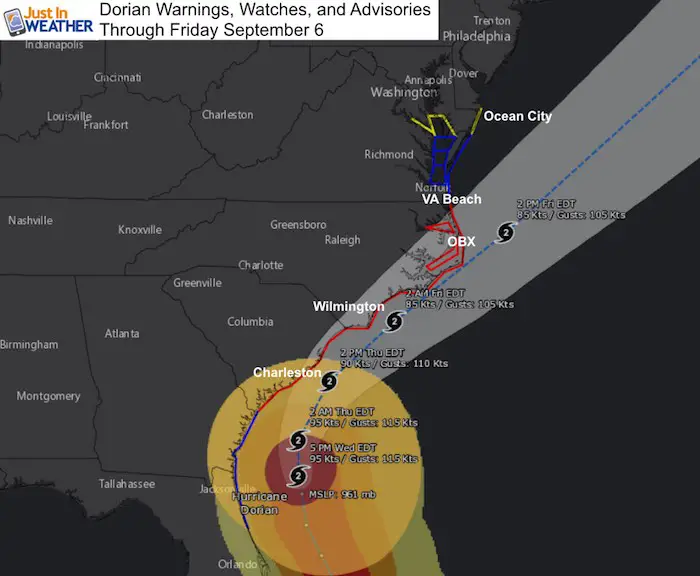 European ECMWF Model –> slider
It will rain in Maryland on Friday from Dorian. It may reach up to central Maryland and northern Delmarva. But southern parts of the state can expect more persistent action.
[adrotate group="4″]
Wind Forecast Maps –> slider
Tropical Storm winds forecast to be very close to the coast. Considering the expanding wind field, that is why southern Maryland is under. Tropical Storm Watch. Winds coast still gust over 40 mph
Closer Look At The Chesapeake Bay Winds
Winds will shift from the Northeast to the North during Friday.
They will increase and likely lead to restrictions on the area bridges, but it will seem like a strong Nor'easter.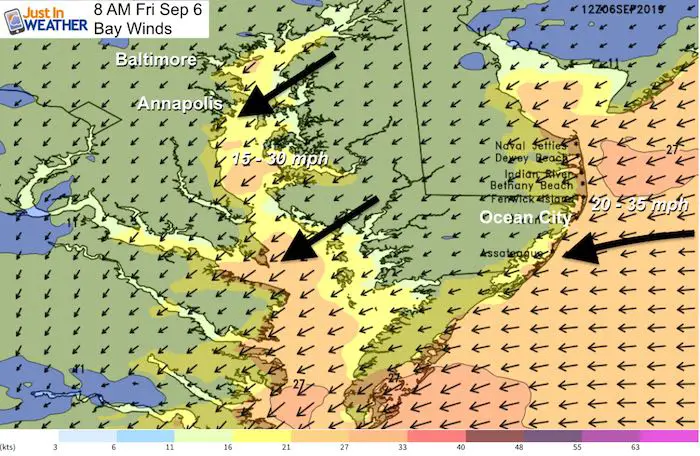 Friday Afternoon: Strongest Winds swing to from the north. Best chance for the beaches to get into Tropical Storm Conditions.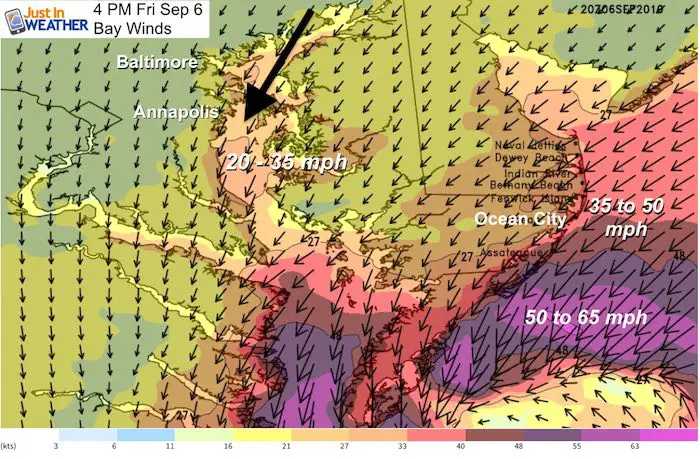 Wave Forecast Maps –> slider
The highest waves for Ocean City and DE beaches will be Friday afternoon and night as Dorian departs.
[adrotate group="4″]
SUMMARY OF WATCHES AND WARNINGS IN EFFECT:

A Storm Surge Warning is in effect for...
* Flagler/Volusia County line FL to Poquoson VA
* Pamlico and Albemarle Sounds
* Neuse and Pamlico Rivers
* Hampton Roads

A Hurricane Warning is in effect for...
* North of Savannah River to the North Carolina/Virginia border
* Pamlico and Albemarle Sounds

A Hurricane Watch is in effect for...
* North of Ponte Vedra Beach FL to Savannah River

A Tropical Storm Warning is in effect for...
* Flagler/Volusia County FL line to Savannah River
* North Carolina/Virginia border to Chincoteague VA
* Chesapeake Bay from Smith Point southward

A Tropical Storm Watch is in effect for...
* North of Chincoteague VA to Fenwick Island DE
* Chesapeake Bay from Smith Point to Drum Point
* Tidal Potomac south of Cobb Island
Keep In Touch Every Day
Just in case you don't get all posts on your social media feed, stay up to date with the latest info…
Click here to sign up for email alerts…. Be the first to hear any new weather
Thank you to our Title Sponsor for Maryland Trek 6
Shining on with Smyth and their contribution, our team has raised over $95,000 for Just In Power Kids to provide free programs for kids in and post cancer treatment.

Please share your thoughts, best weather pics/video, or just keep in touch via social media
Maryland Trek Cycle Jerseys From Hill Killer
All proceeds will go to the Maryland Trek 6 total and Just In Power Kids programs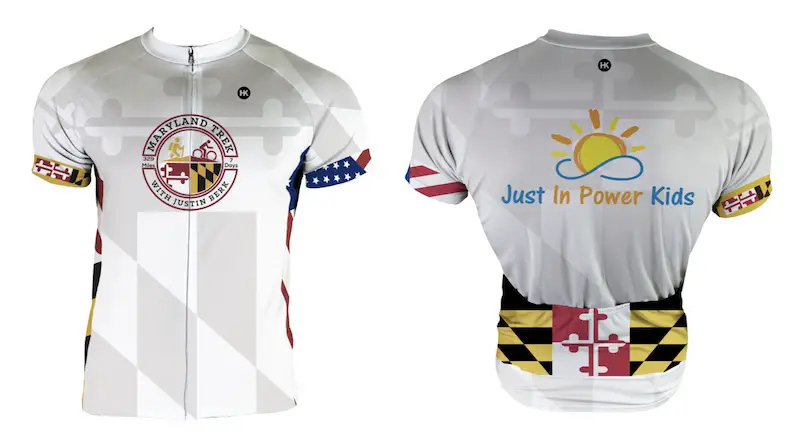 Just In Power Kids:
Proceeds go to our programs Providing FREE holistic care for kids in cancer treatment and up to 5 years post treatment and caregivers.
Shine On
Proceeds from all sales go to Just In Power Kids. Click the image to shop and show your support.
Love Maryland Shirts and Hoodies
This shirt was designed by my 'bonus' daughter Jaiden. The hoodie has been the biggest hit, so our promotion has been extended until the end of this week. 
Show your love for Maryland and make this 14 year old artist and her mom extra proud