July 18 Storm Update
Forecast
Justin Berk
Jul 18, 2019
12:00 am
0
12 PM Thursday July 18
Have you noticed the additional cloud cover building this morning? That is one of the reasons it will not be as hot today, but it is plenty humid.  At noon, temperatures ranged from the mid to upper 80s with Heat Index values in the mid 90s. In fact showers have already developed and more are expected through this afternoon.
The short range modeling is far from perfect,  and already missed this early flare up. But I wanted to show you how it has shown the rest of the development and what areas are most likely to some rain or quick thunderstorms.
Visible Satellite Loop
Look closely and you can actually see the circulation of weak Low Pressure as it moves across central Maryland. This is a  hour satellite loop ending at 11:37 AM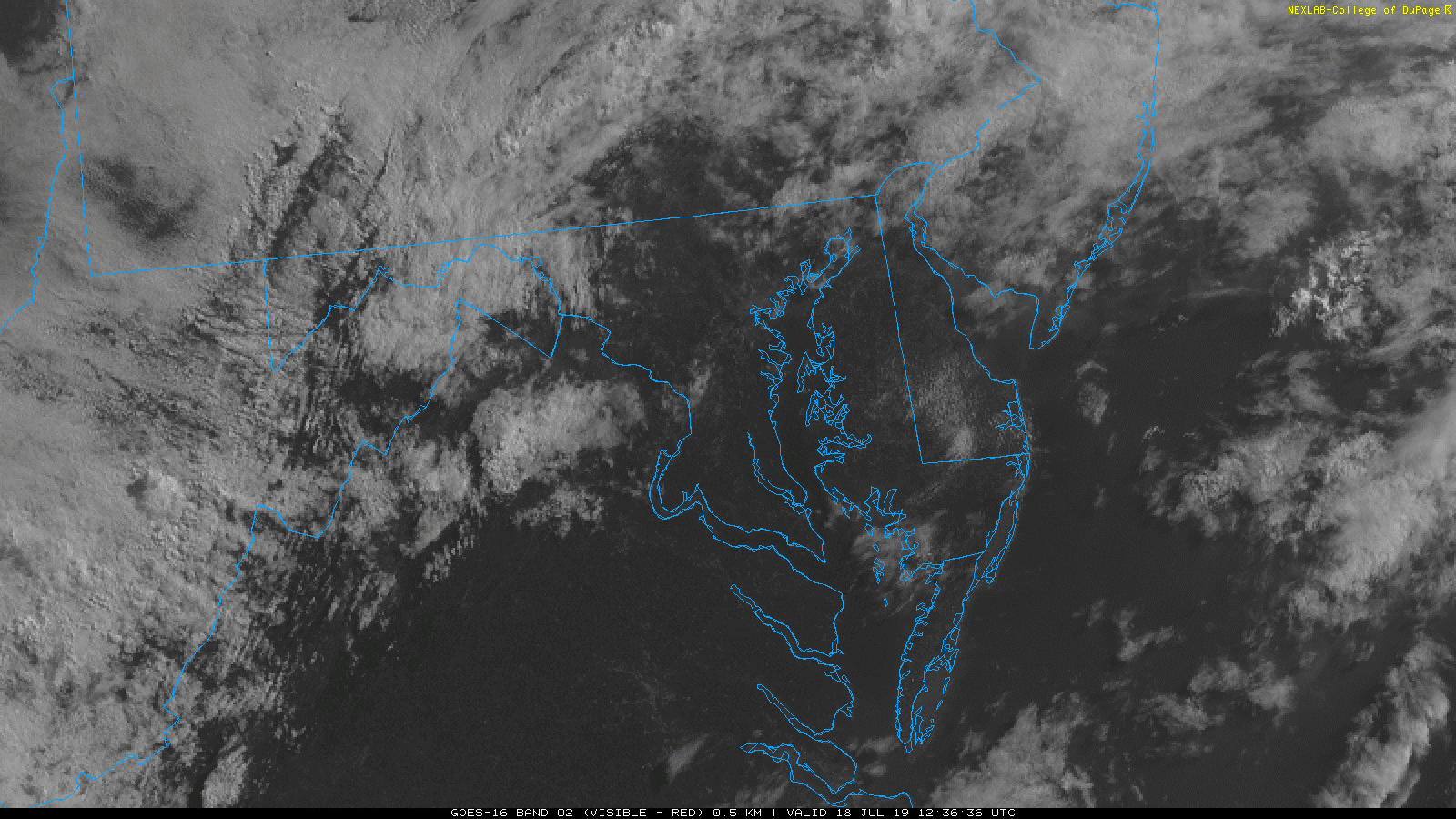 [adrotate group="4″]
Radar Loop
This loop is 2 hours long between 9:40 AM and 11:40 AM. The rain has been developing on the north and east side of that circulation.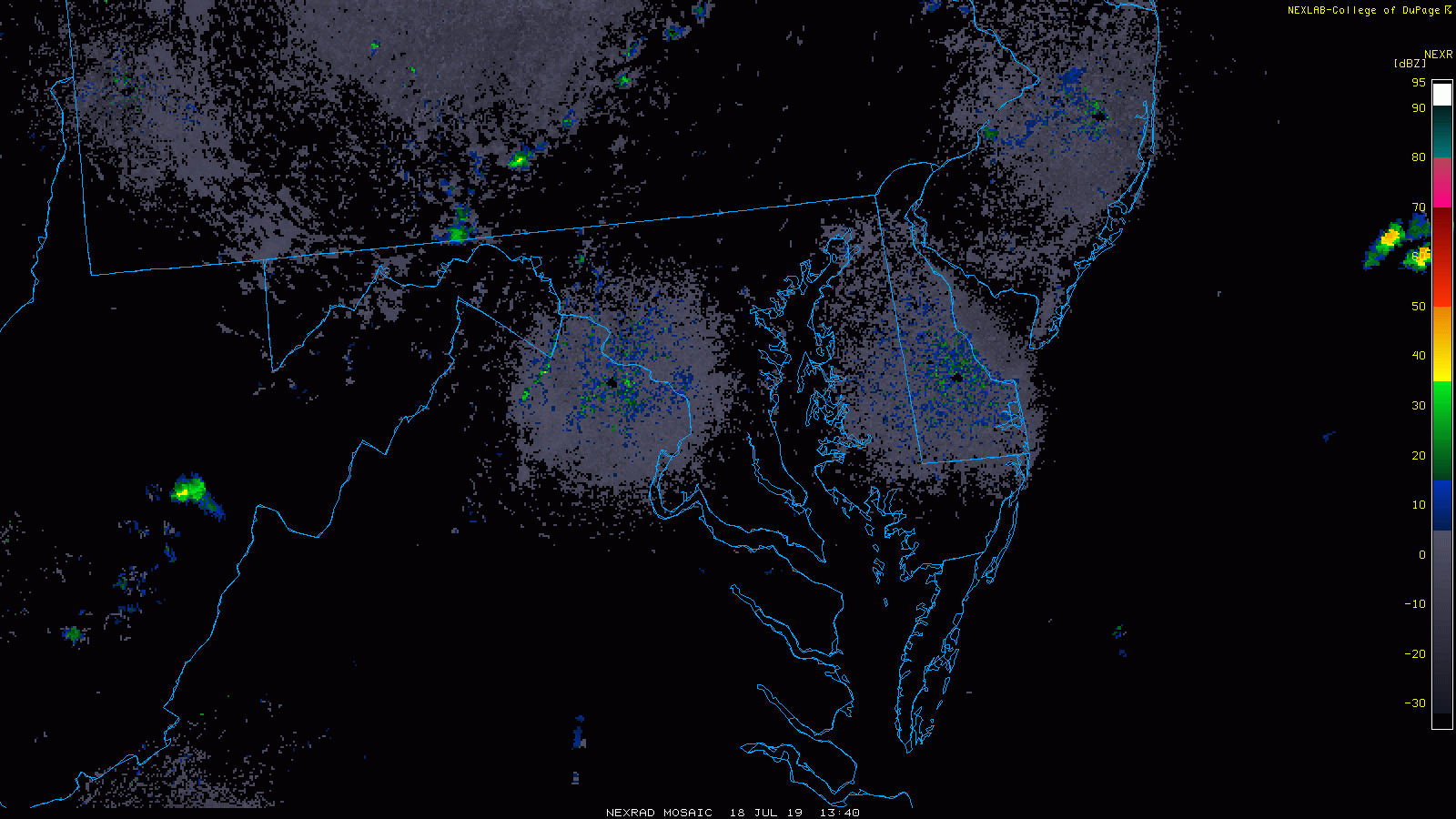 Radar Snapsnot
Soem showers have developed and diminished quickly around Baltimore. The main energy is in southern PA and Cecil County MD to Wilmington DE now.
Radar Simulation –> slider
This model is the best 'guess' but already has missed the early showers. It is NOT perfect. The atmosphere is unstable and more will develop around this Low into the afternoon. This should give an idea of how that may play out.
[adrotate group="4″]
Excessive Heat Watch
[adrotate group="4″]
End Of The Heat Dome
The heat will peak this weekend, but the jet stream next week shows a dramatic change to below normal temperatures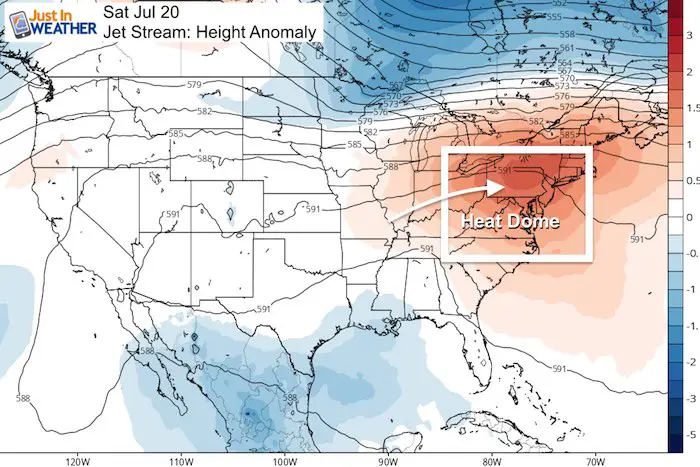 Keep In Touch Every Day
Just in case you don't get all posts on your social media feed, stay up to date with the latest info…
Click here to sign up for email alerts…. Be the first to hear any new weather
Please share your thoughts, best weather pics/video, or just keep in touch via social media
Bring Your Kids To Join My Team: Maryland Trek 6
Kids Trek Too!
Bring Your Kids To Join My Team This Summer
Click the logo for more information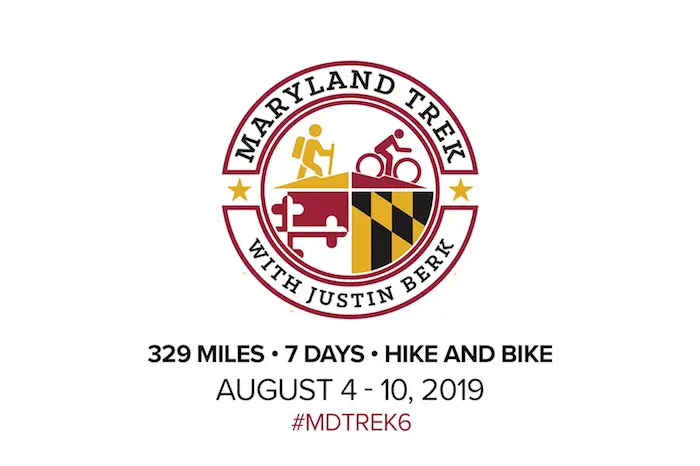 Support Our Nonprofit:
Proceeds go to our programs Providing FREE holistic care for kids in cancer treatment and up to 5 years post treatment and caregivers.
Shine On
Proceeds from all sales go to Just In Power Kids. Click the image to shop and show your support.
Love Maryland Shirts and Hoodies
This shirt was designed by my 'bonus' daughter Jaiden. The hoodie has been the biggest hit, so our promotion has been extended until the end of this week. 
Show your love for Maryland and make this 14 year old artist and her mom extra proud