Red Sun: More Smoke And Haze From Canadian Wildfires For A Few More Days
smoke
Maryland Weather
air quality
Forecast
Justin Berk
Jun 5, 2023
8:17 pm
0
Monday Evening June 5
That milky white color to the sky today has become a familiar sight. This latest round is a fresh source of smoke high in the atmosphere from Canadian Wildfires.
It has been deceiving as our temperatures have been averaging below normal, with the exception of our record 97°F last Friday.
This haze is what we might expect with hot temps, but not often when it's been cool (70s).
Monday Evening Sky
Orange Orb at 7 PM in Dallastown, PA
The deep orange is due to particulates in the atmosphere from the smoke.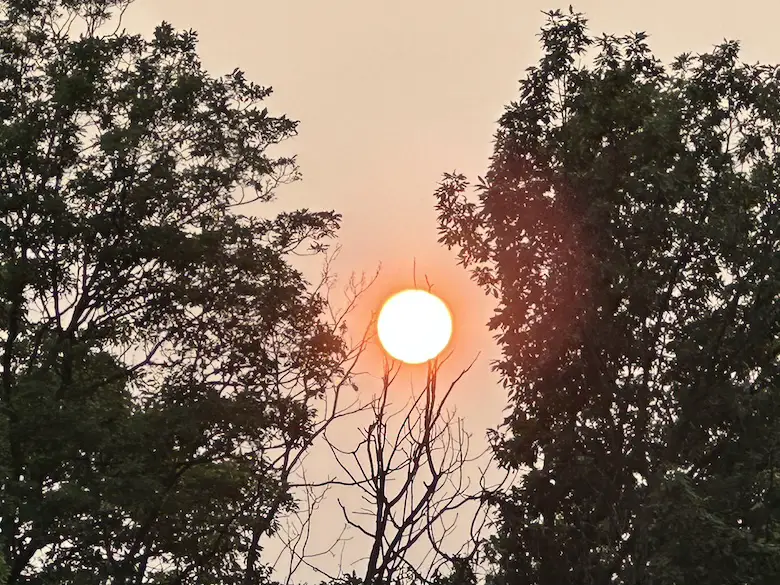 Red Orb at 8 PM in Sykesville, MD
Shannon Berk (my wife) took this.
The deep red orb is also due to the filtering light through the smoke particles. The lower in the sky, the more red the sun will appear. This works in reverse as it rises in the morning.
The latest wildfire activity map looks very busy. Last week's blaze in New Jersey is not fully contained and has hot spots. There is also a large cluster of fires in Michigan.
But the main plume continues to be from Eastern Canada.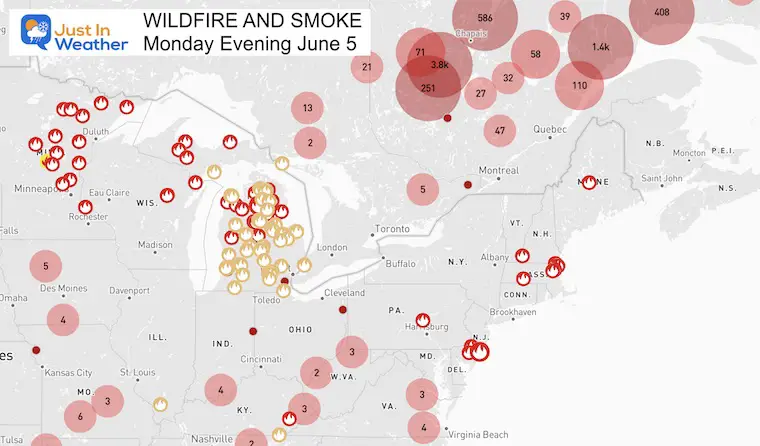 Monday Evening Weather Map
A stalled storm east of Maine has helped bring rain and cool temps with moist ocean air over the Nova Scotia fires. However, more blazes continue across parts of Quebec and Ontario. The wind flow is what is bringing the smokey air aloft our way.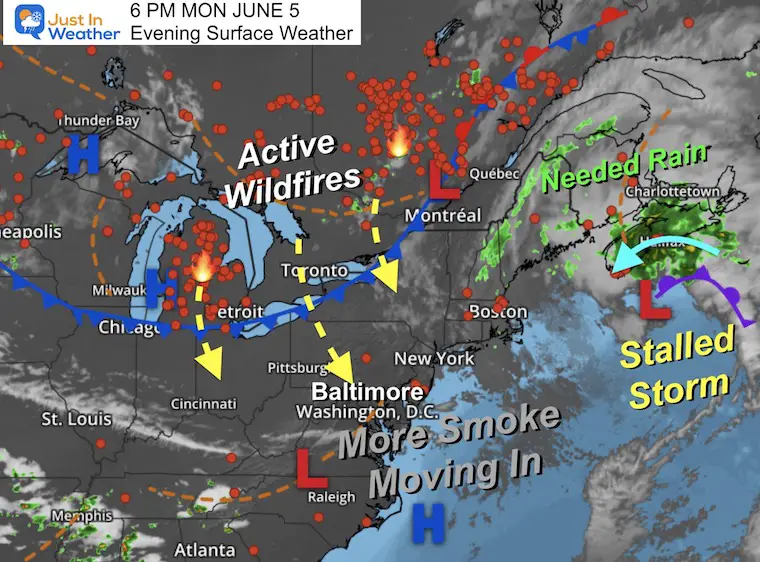 Monday Evening Smoke Analysis
6 PM/Forecast
Smoke Plume Forecast
Monday Evening to Wednesday Afternoon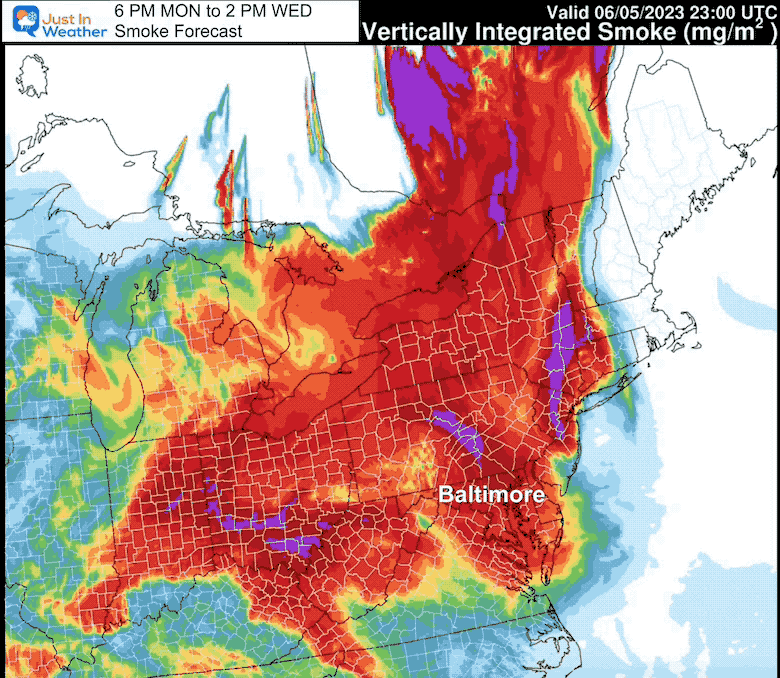 ---
EXPLORE MORE
2023 Hurricane Season Forecast With An El Niño Watch
---
Forecast Maps:
Tuesday Morning Smoke
This may be an opportunity for a deep red orb sunrise.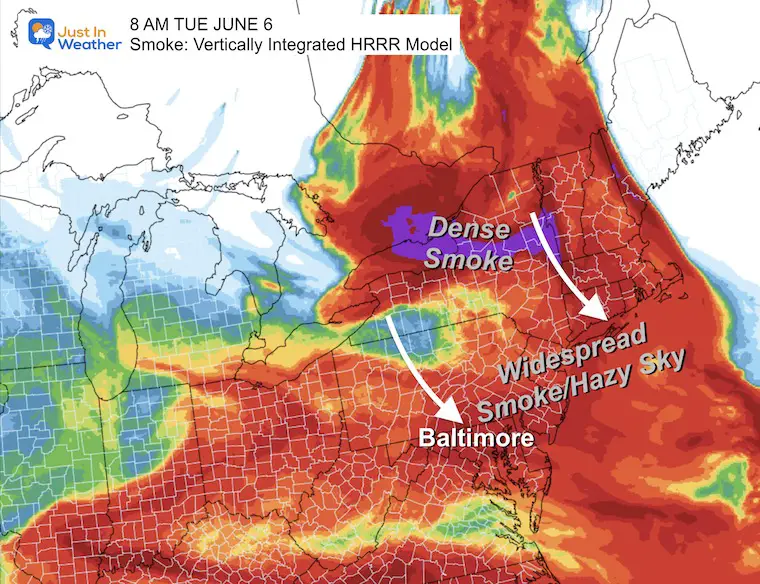 Tuesday Wind Forecast
8 AM to 8 PM
The winds will increase FROM the North/Northwest. This is what will carry more smoke our way.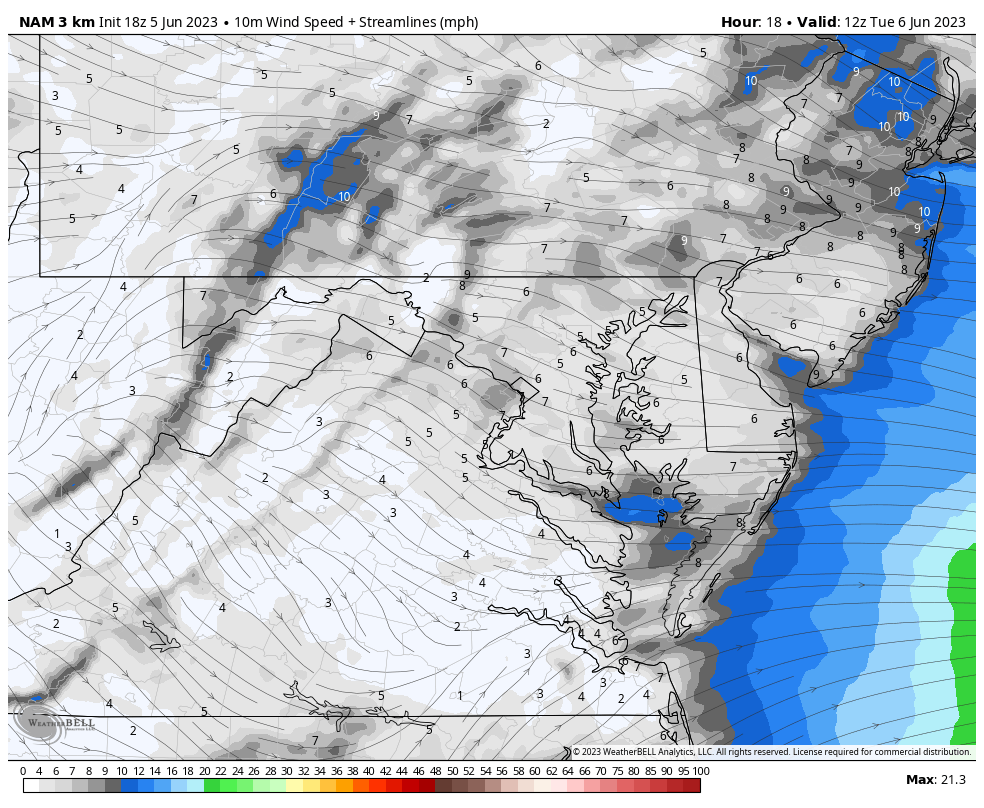 4 PM Tuesday Winds
Winds will be 15 to 25 mph.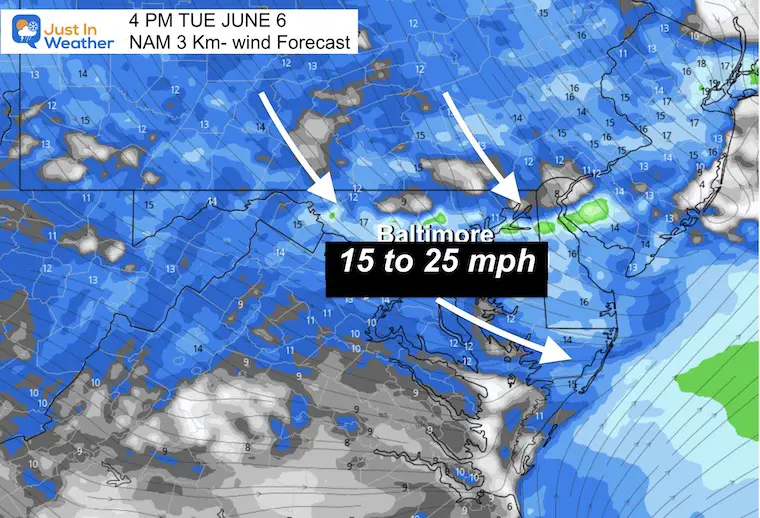 Radar Simulation
4 PM Snapshot
A line of showers will try to form. This is NOT going to help the drought. It may help carry some smoke down closer to the surface. So you may smell more of it in the air.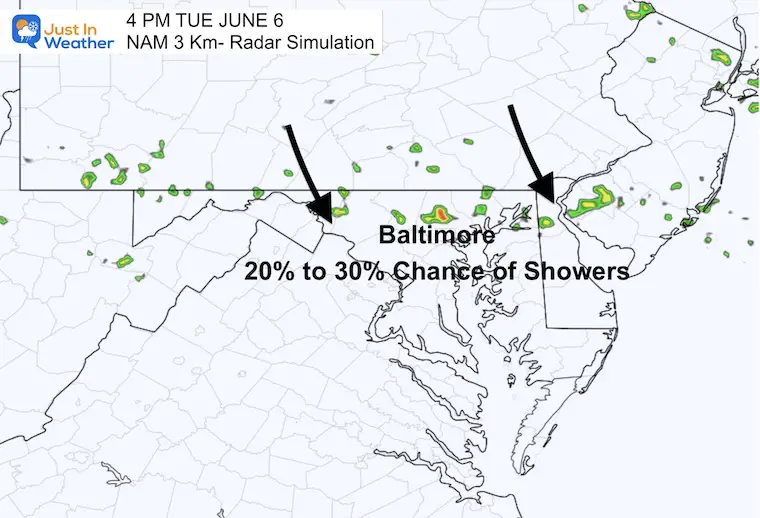 Radar Simulation
Noon to 10 PM
Notice the movement FROM the north, but only a 20% to 30% chance to get a brief shower.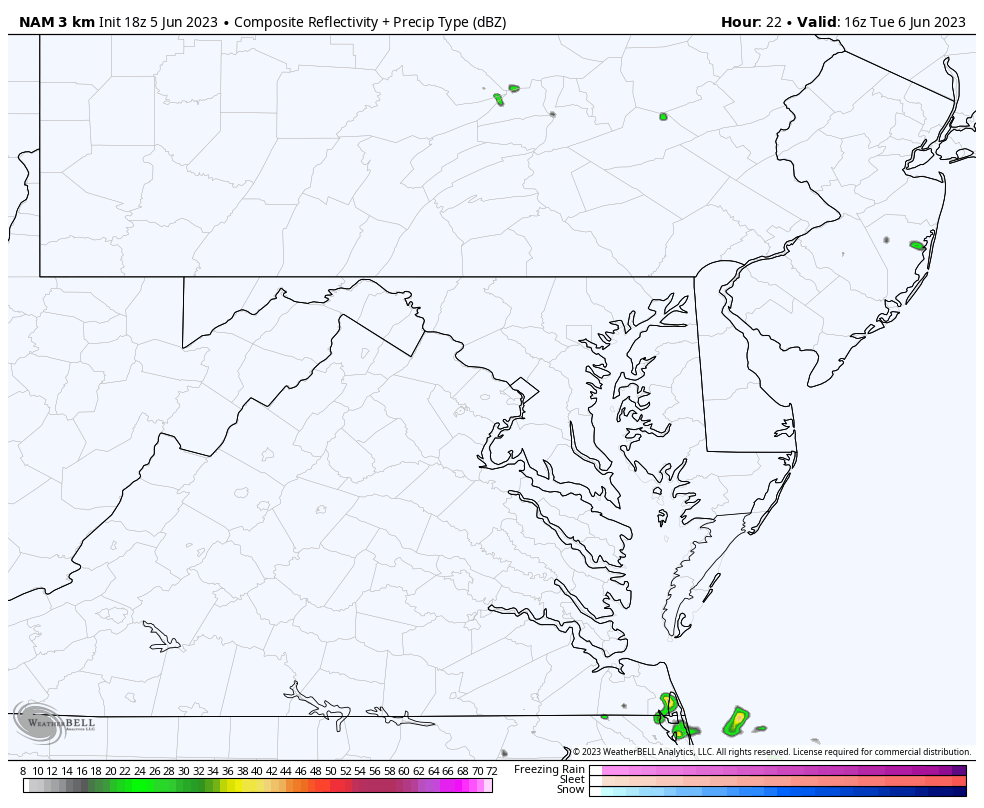 Smoke Forecast Wednesday Afternoon
A fresh plume of smoke will attempt to fill back in.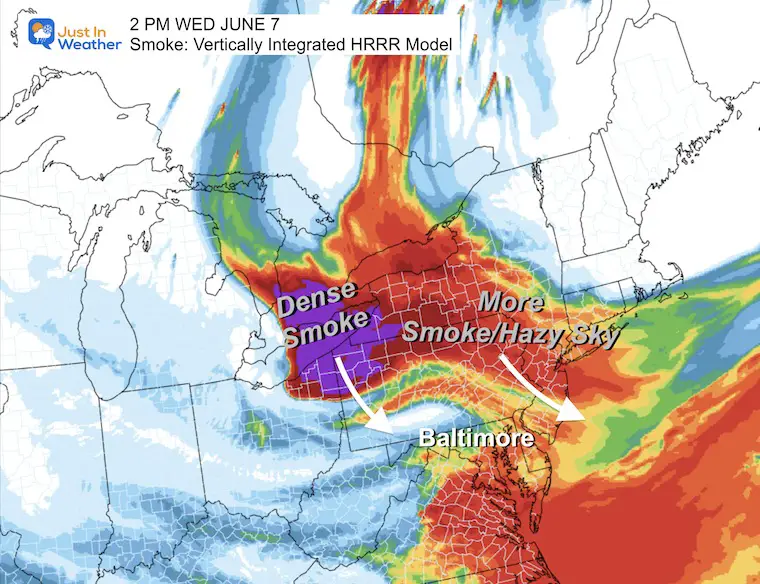 I will include a look at the smoke in my full forecast on Tuesday morning.
Subscribe for eMail Alerts
Weather posts straight to your inbox
Sign up and be the first to know!
Also See: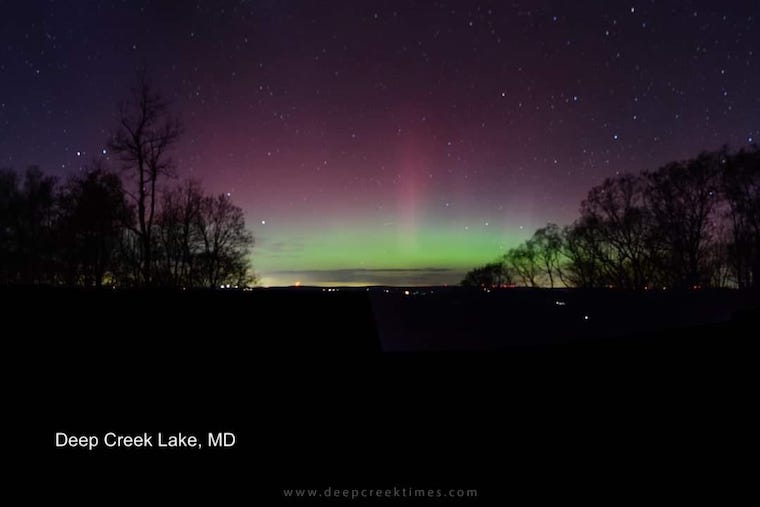 Please share your thoughts, best weather pics/videos, or just keep in touch via social media
RESTATING MY MESSAGE ABOUT DYSLEXIA
I am aware there are some spelling and grammar typos, and occasional other glitches. I take responsibility for my mistakes, and even the computer glitches I may miss. I have made a few public statements over the years, but if you are new here you may have missed it: I have dyslexia, and found out during my second year at Cornell University. It didn't stop me from getting my meteorology degree, and being first to get the AMS CBM in the Baltimore/Washington region. One of my professors told me that I had made it that far without knowing, and to not let it be a crutch going forward. That was Mark Wysocki and he was absolutely correct! I do miss my mistakes in my own proofreading. The autocorrect spell check on my computer sometimes does an injustice to make it worse. I also can make mistakes in forecasting. No one is perfect predicting the future. All of the maps and information are accurate. The 'wordy' stuff can get sticky.  There has been no editor that can check my work when I needed it and have it ready to send out in a newsworthy timeline. Barbara Werner is a member of the web team that helps me maintain this site. She has taken it upon herself to edit typos, when she is able. That could be AFTER you read this. I accept this and perhaps proves what you read is really from me… It's part of my charm.
#FITF