October 21 Weekend Weather Starts Nice May End With Rain For Ravens Game
NFL Football Game
NOAA
Maryland Weather
climate data
Forecast
Justin Berk
Oct 21, 2022
6:45 am
0
October 21 2022
Friday Morning Update 
We have another frosty start across the Mid Atlantic this morning. This should be the turning point as High Pressure is in control and the winds will be shifting. A sunny afternoon will help boost our temps, and that trend will continue to start the weekend on Saturday.  
What I've mentioned for a few days continues to be up for debate: A coastal Low developing and bringing in rain for Sunday. The modeling has not had a good handle on this, but it is worth noting that 'something' will be out there.  I know that sounds very vague and an easy cover, but I will play up the wet side for Sunday. So if you are going to the Ravens Game in Baltimore, plan for potential rain on your tailgate and spectating. If it stays east it will be a pleasant surprise. If it ends up rainy, then you will be prepared. 
NEW STUFF: I shared the NOAA Winter Outlook earlier today. It is quite different than the Farmer's Almanacs I showed last month. See that report below the 7-Day forecast at the bottom of this post.
Morning Surface Weather
High Pressure dominates the East Coast. A weak Low east of the Bahamas is the spin from this cold air that we will watch to move up the coast this weekend.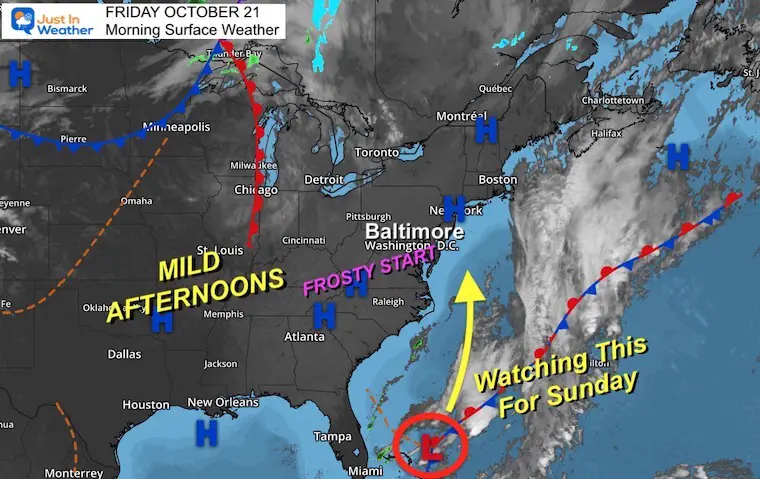 Freeze Warning and Frost Advisory (in place)
Temps supporting the additional frost. Farther west there are no advisories because there has already been a growing season ending freeze.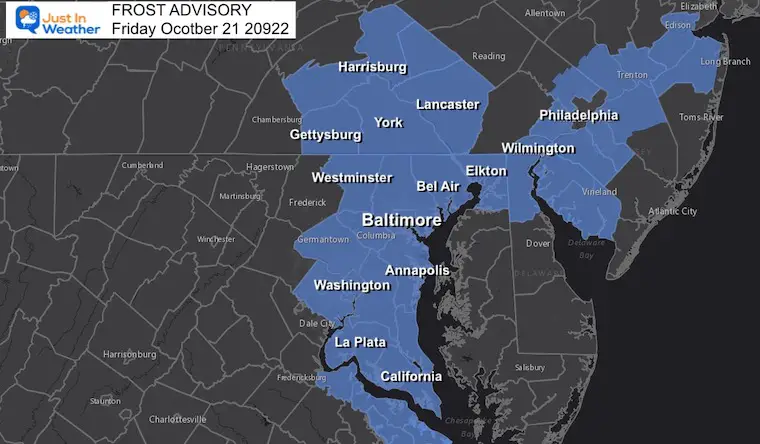 Morning Temperatures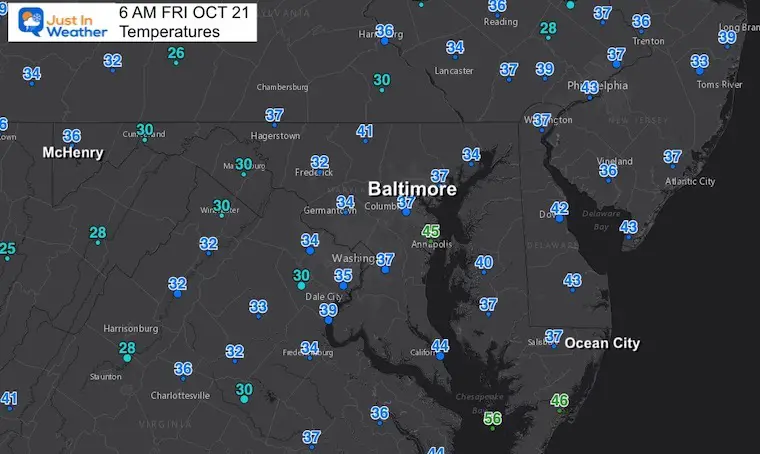 Afternoon Temperatures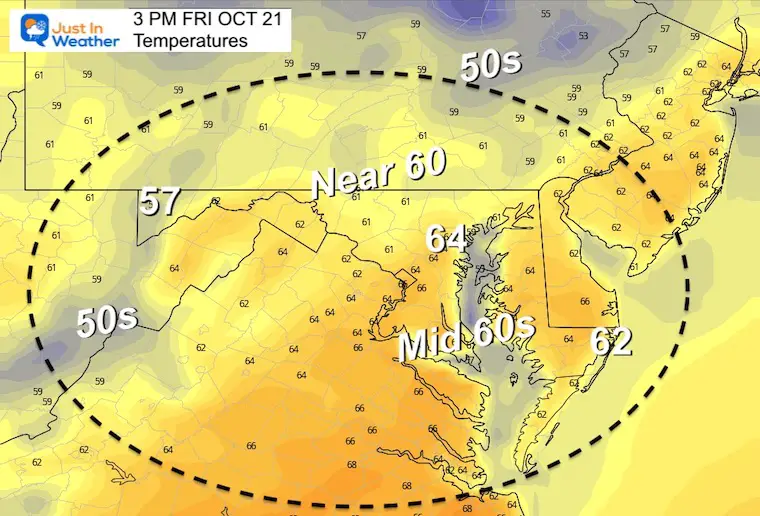 CLIMATE DATA
TODAY October 21
Normal Low in Baltimore:  44ºF
Record 26ºF in 1952
Normal High in Baltimore: 67ºF
Record 90ºF 1947
Weather posts straight to your inbox
Sign up and be the first to know!
Saturday Temperatures
Morning
Inland Frost Again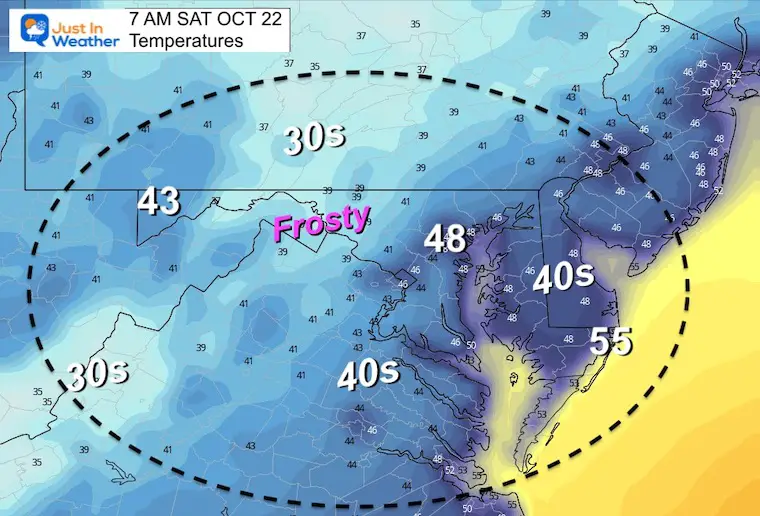 Afternoon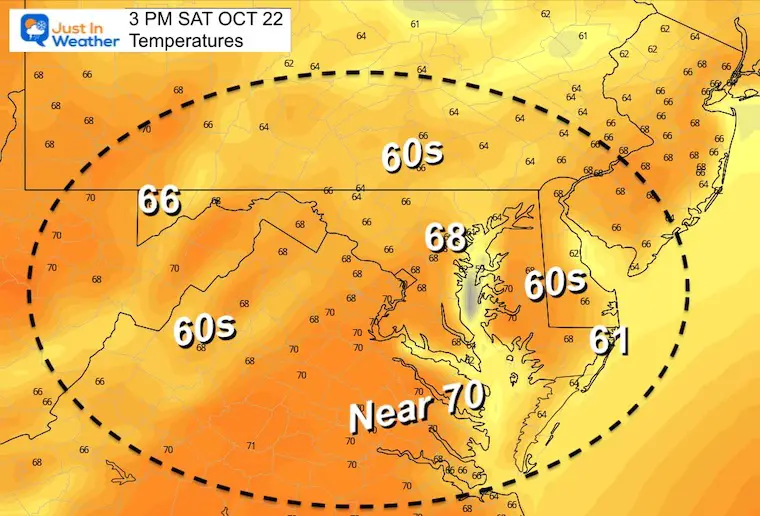 Sunday Outlook
The European Model was first to pick up on this rain. Yesterday it lost it, and now it is back.  Here we see the snapshots with showers in the morning and a steadier rain streaming in for the afternoon. 
If this was a winter storm, a lot more would be hanging in the balance. I do welcome this NOW to help illustrate to you the complexity of our computer guidance in all seasons. I also welcome the opportunity to study the models for which may be handling these set ups better, and apply later.
Morning
High Pressure in New England COMBINED with this coastal system will help enhance a wind FROM THE EAST and bring in more clouds for sure. The rain is the debatable part, which the ECMWF model is locked in on.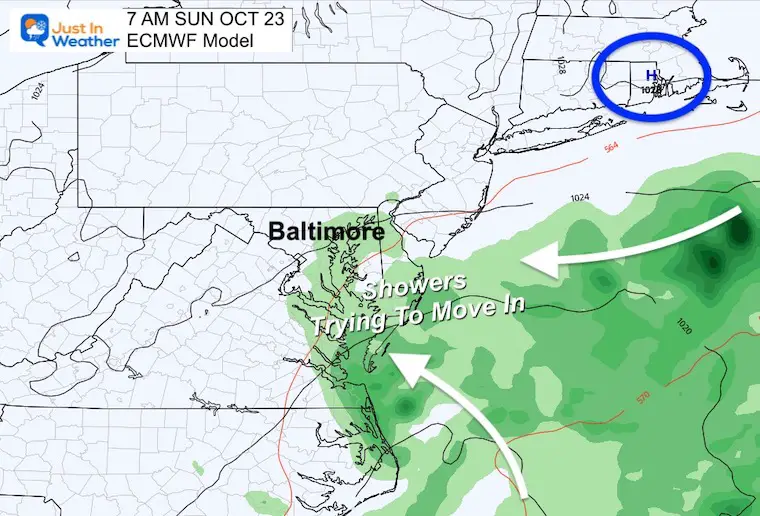 Afternoon
If the Euro wins, then we will get a rainy game for the Ravens.  Let's hope the Ravens win either way.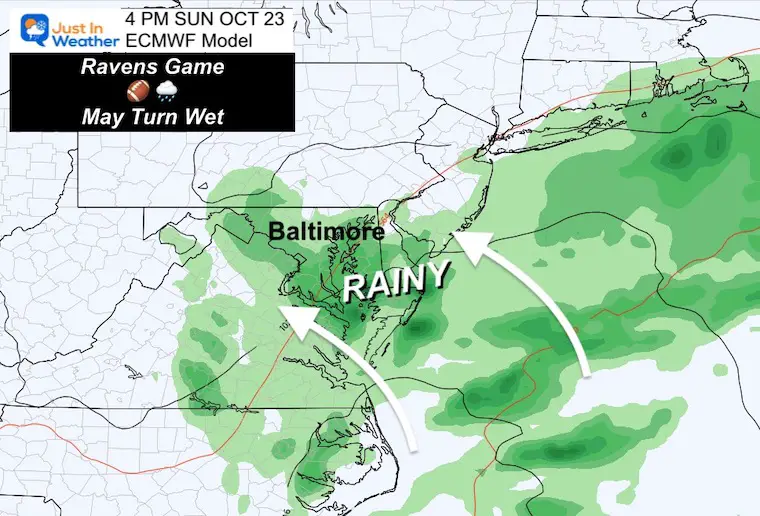 Animation: Saturday Afternoon to Sunday Afternoon
This shows the build up of showers moving to the Northwest on Sunday, and lingering showers on Monday.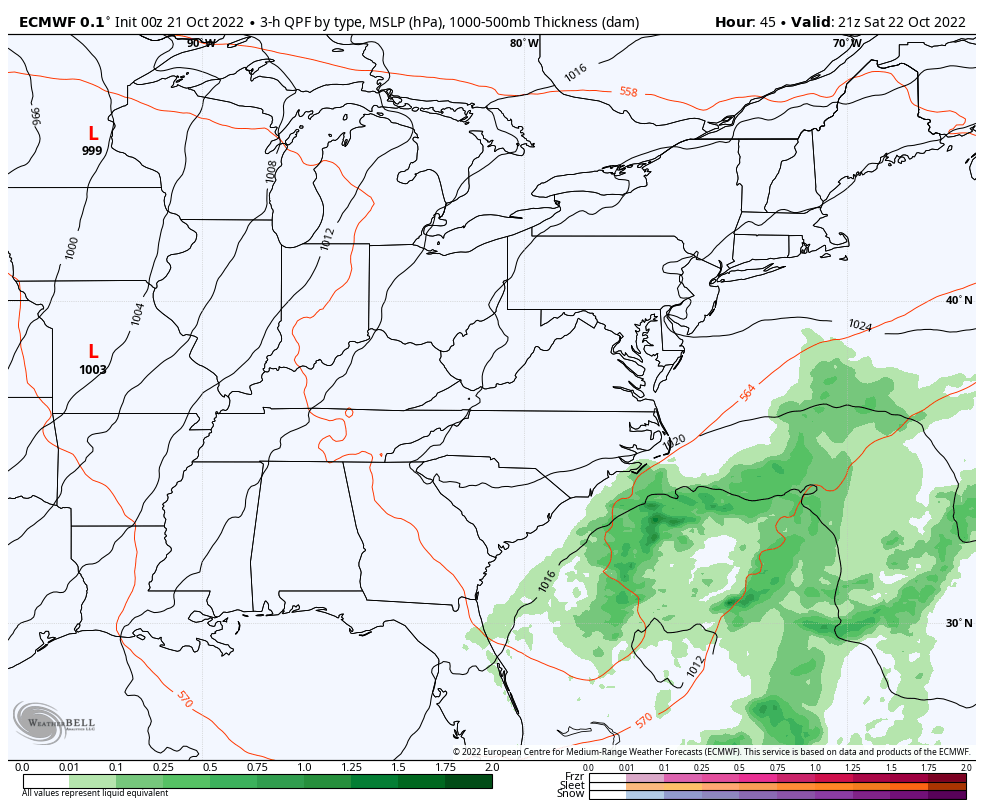 GFS Model: Saturday Afternoon to Monday Afternoon
This model has a diminished system with light showers staying near or east of the coast.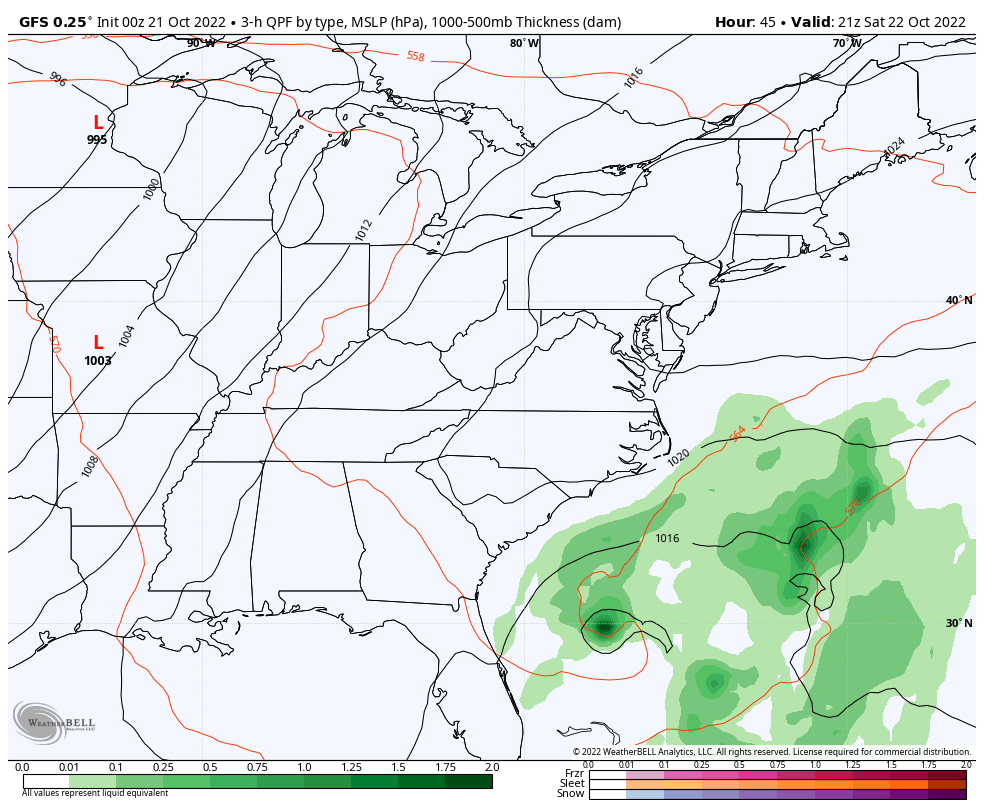 Later Next Week: Another Coastal?
Wednesday Evening to Friday Evening
This same GFS Model may find its way with the weekend system, or be ahead of the game. That is why I wanted to show you that it is trying to develop a larger coastal system later next week. This may turn out to evolve for us on Thursday.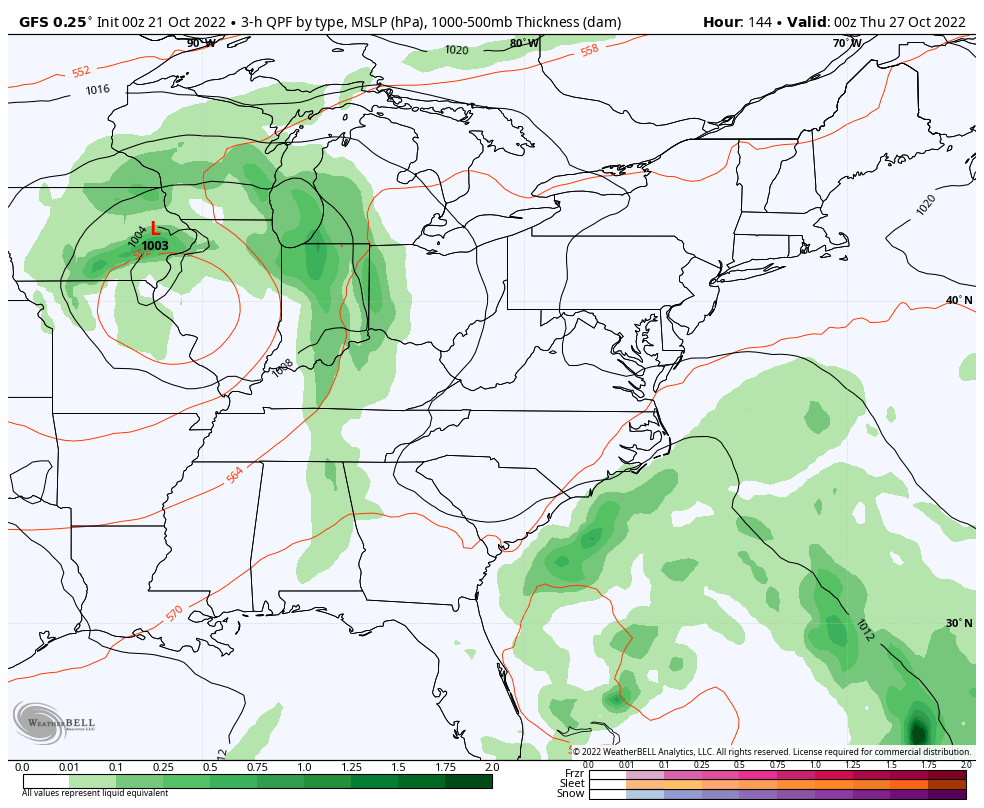 7 Day Forecast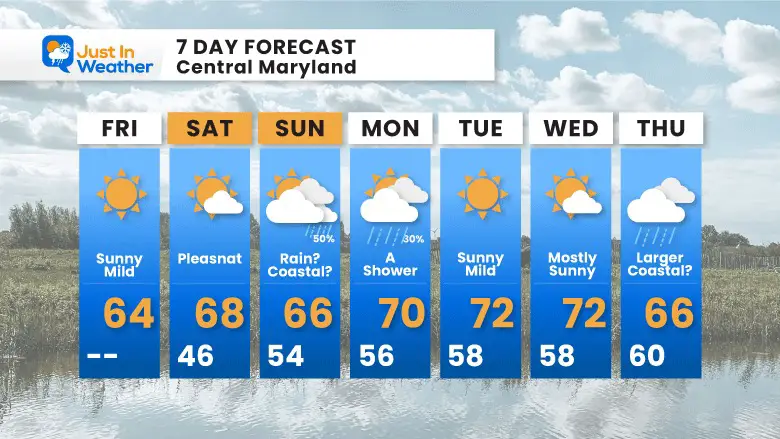 NEW REPORT:
Winter Outlook 2023 From NOAA Very Different Than Farmers Almanacs
ALSO SEE THESE OTHER WINTER OUTLOOK REPORTS
Farmer's Almanac Comparison
Winter Outlook 2023 Early Look At Snow From Two Farmers Almanacs
Triple Dip La Nina Winter
CONNECTION TO WINTER?
If you want a snowy winter, this is what you might want to look for in the rest of the tropical season.
Record August For No Named Tropical Storms: Closer Look At Snow Following
Winter Folklore Checklist
Normals And Records: Maryland and Baltimore Climate History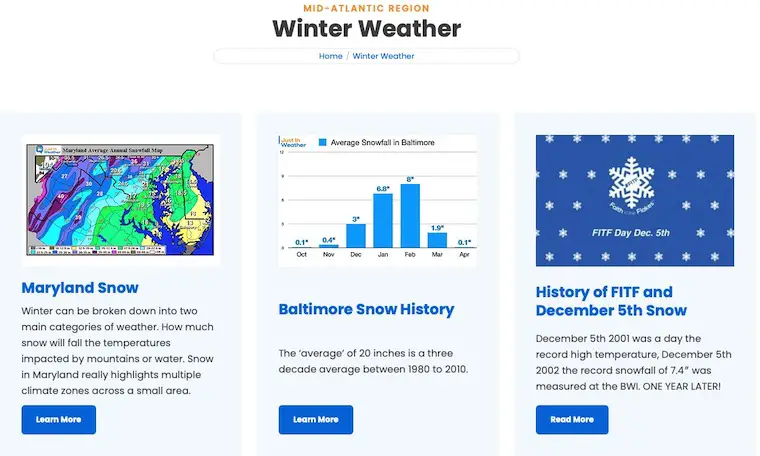 Faith in the Flakes Gear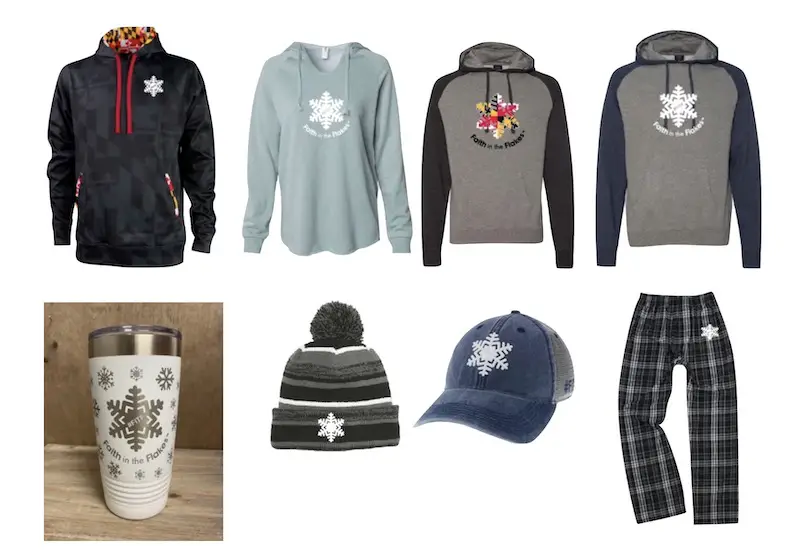 SNOWSTIX – Available Now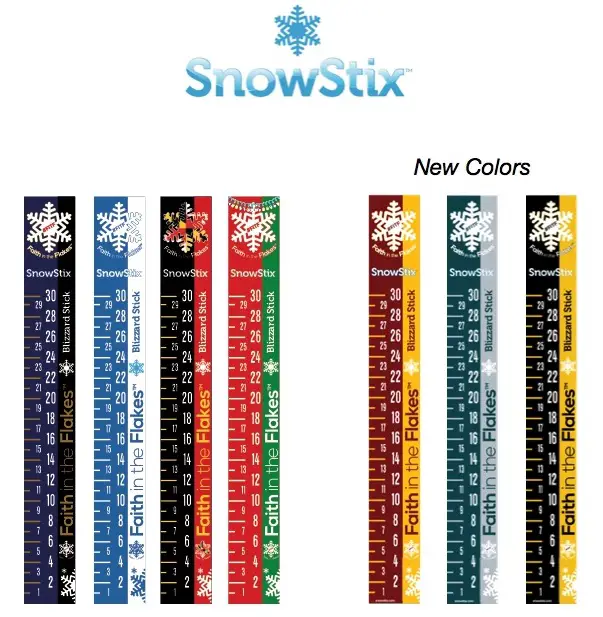 Please share your thoughts, best weather pics/videos, or just keep in touch via social media
STEM Assemblies/In School Fields Trips Are Back
Click to see more and 'Book' a visit to your school