Friday May 13 Weather Brings Thunderstorms Today And This Weekend
Coastal Storm
climate data
Forecast
Justin Berk
May 13, 2022
6:12 am
0
May 13 2022
Friday Morning Report
Today is Friday the 13th and we have some dreary weather. As for the ominous date, it has often brought me good days, so let's make the most of what we have…
The old storm from last weekend has moved back into the North Carolina coast and is responsible for our rain again.  Below we can see the track of rain moving to the northwest with thunder already before dawn in southern Maryland.
The moisture has increased which means even if you are not in the rain,  areas of thick fog have developed. Temperatures will be warmer as well, suggesting more of a tropical feel to the air moving in with that Southeast ocean air mass. 
This Morning…
Radar Snapshot at 6 AM
The initial wave of rain and storms is pain west of Baltimore. This is about to reach Eldersburg and extends south to Washington and central Virginia.
The next cluster of rain and storms spans from Easton to southern Maryland. This has heavy cells with lightning.
All is moving to the Northwest at around 25 mph.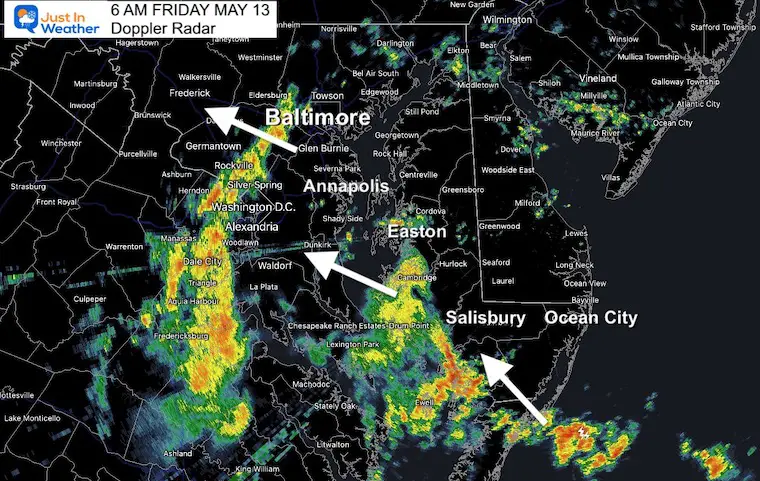 Radar Loop 4 AM to 6 AM
Rain has been moving in FROM the Southeast. Note the heavy activity in Southern Maryland along with lightning strikes.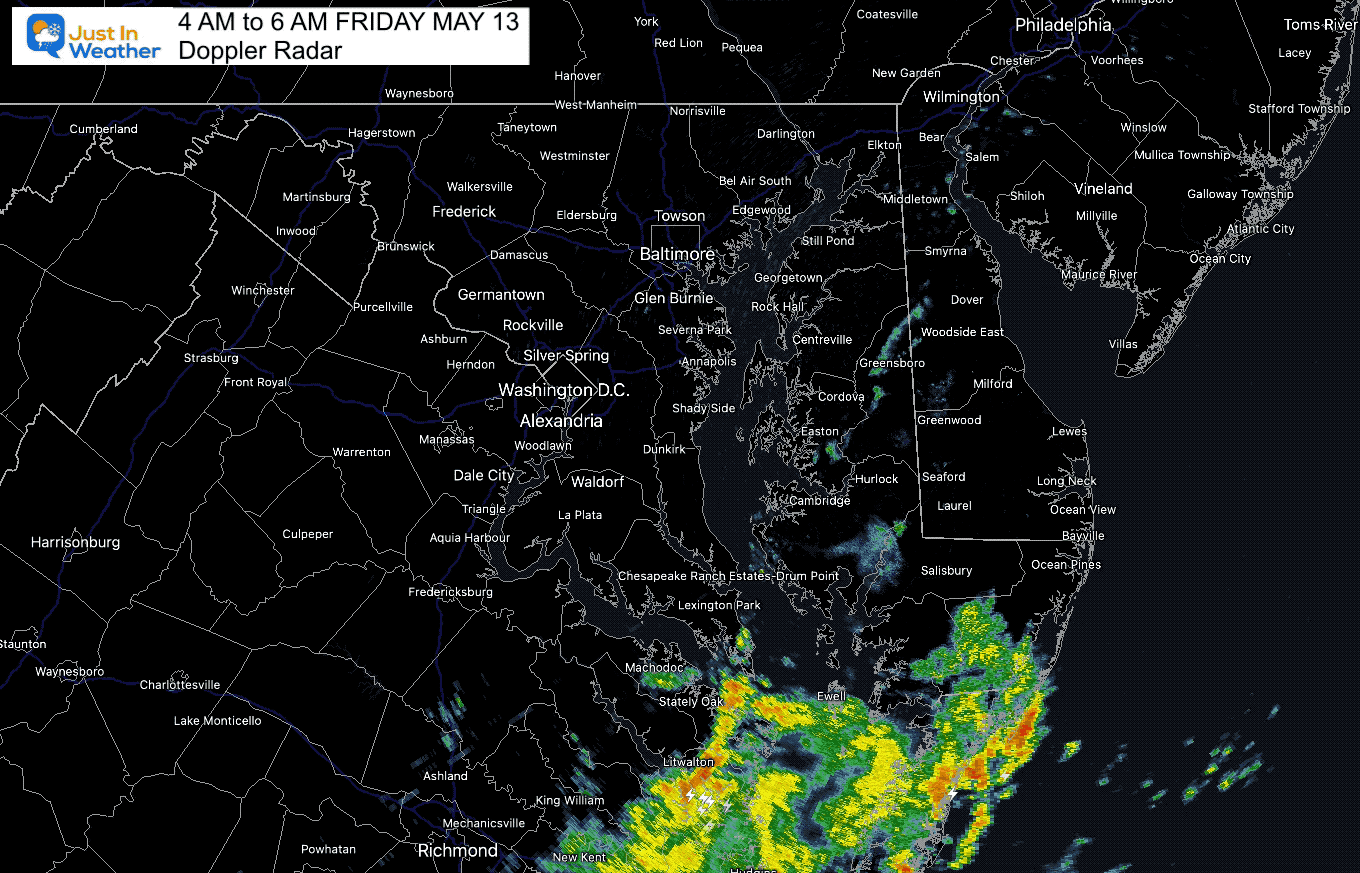 Got Weekend Plans?
I understand the importance of tracking rain and thunder for weddings, birthday parties, and sporting events. This is a tough forecast because we will have WAVES of showers and storms, with many dry hours in between. All it takes is one shower or lighting to chase away your event.
Some areas may get under persistent showers, while others could miss out. The best we can do is plot the simulation each morning, but it is NOT PERFECT. Even what I show for today appears to be under estimating the activity. 
Surface Weather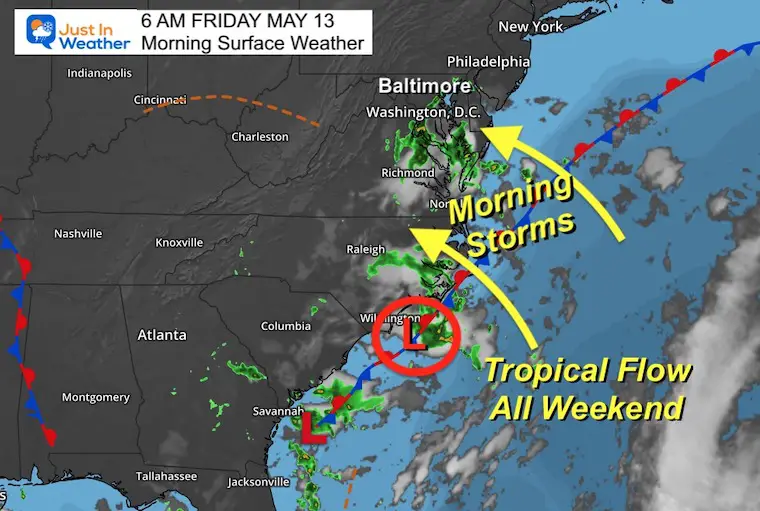 Temperatures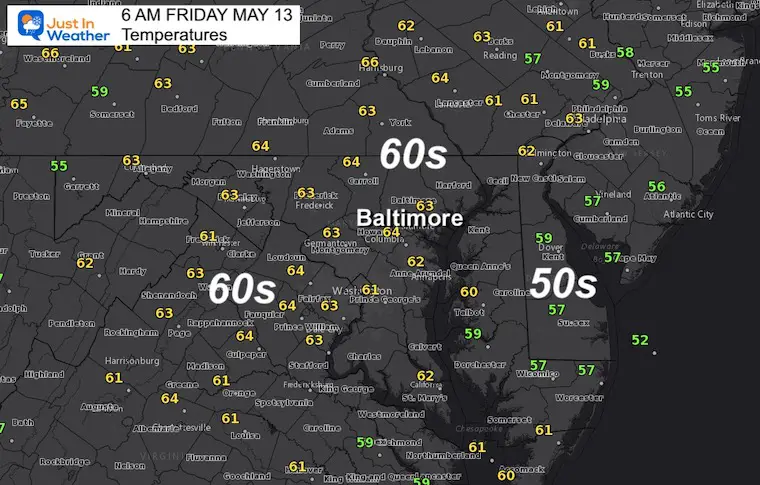 Radar Simulation(s)
REMINDER: These are NOT PERFECT!  Comparing the HRRR and NAM 3 Km Models shows the differences in location of storms, but the similarity that there will be waves developing. One push this morning, then more this afternoon… 
HRRR Model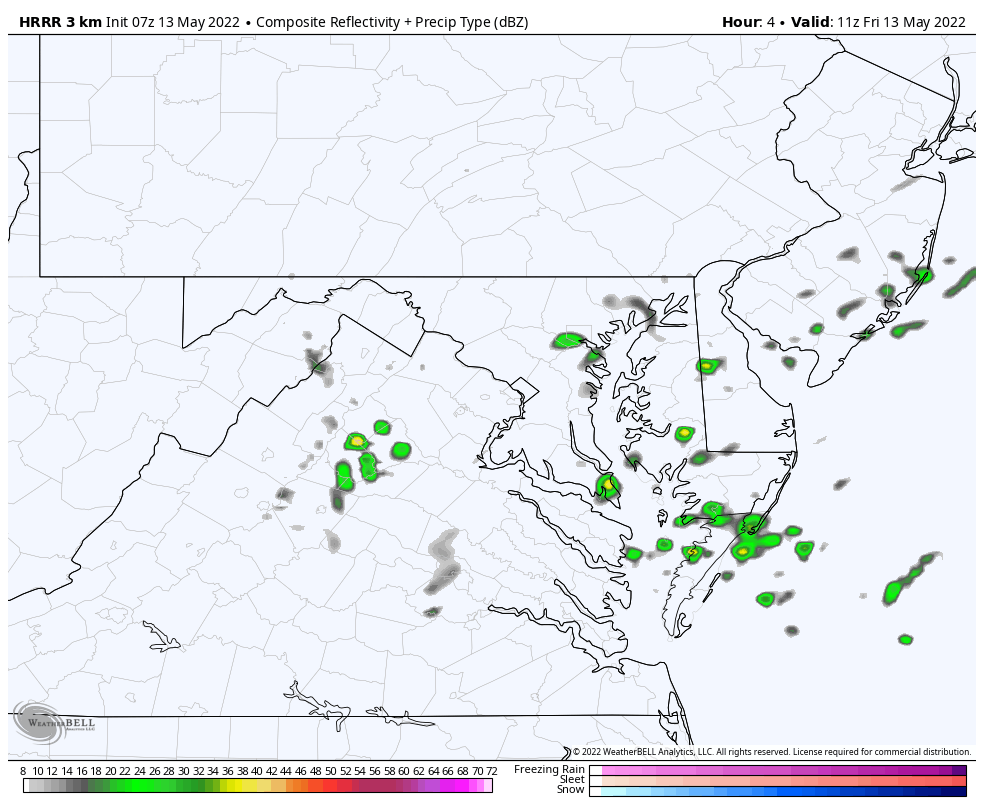 NAM 3 Km Model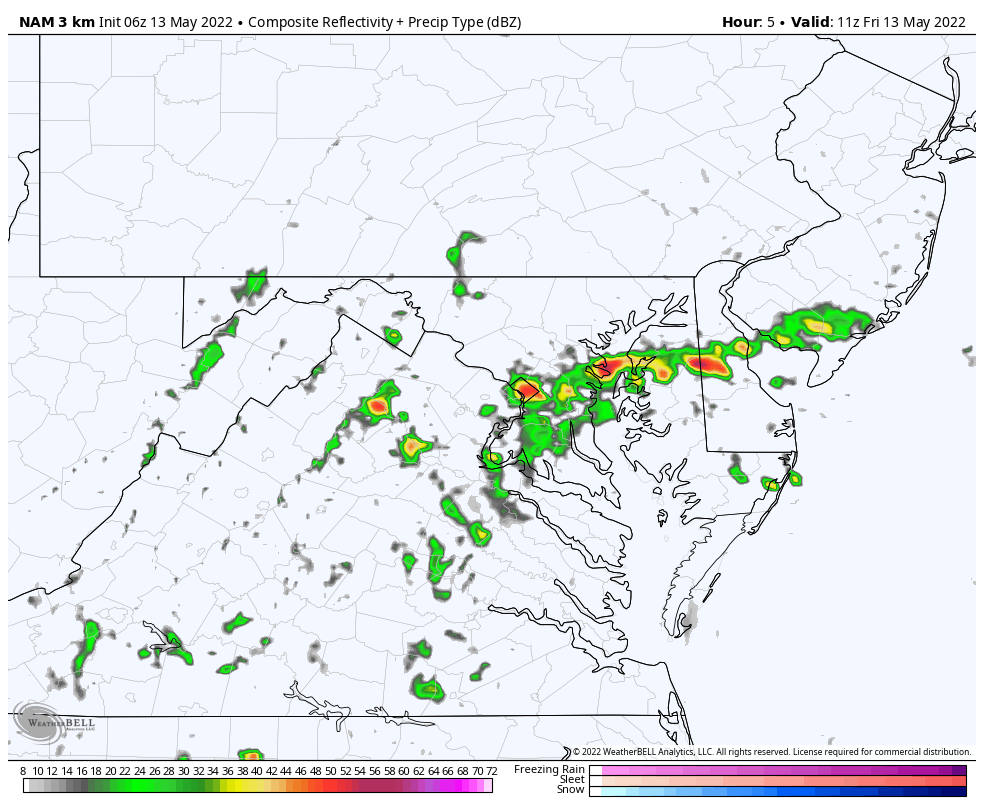 Afternoon Temperatures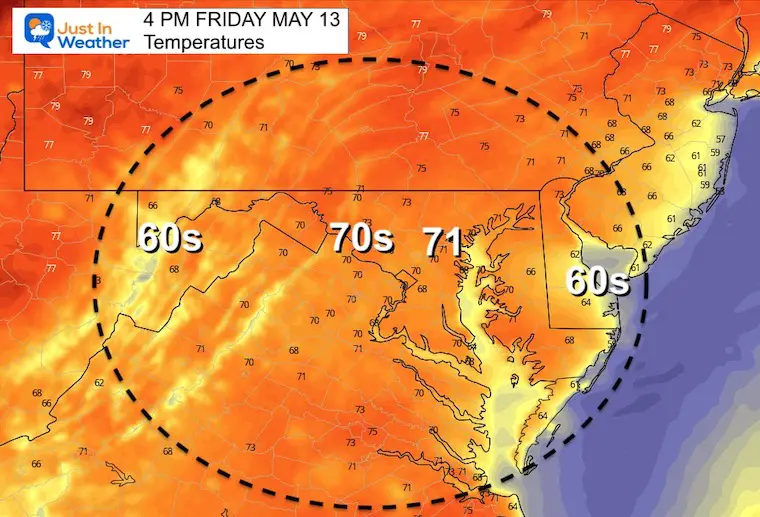 Weather posts straight to your inbox
Sign up and be the first to know!
CLIMATE DATA
TODAY May 13th
Normal Low in Baltimore:  51ºF
Record 36ºF in 2020
Normal High in Baltimore: 73ºF
Record 95ºF 1881
Saturday
Radar Simulaiton
NOT PERFECT:
Tracking more showers and storms that likely could be more widespread than shown here… Our overall odds for storms will be 50% for the day, which means there will be many dry hours in between. I will update as often as possible with new info…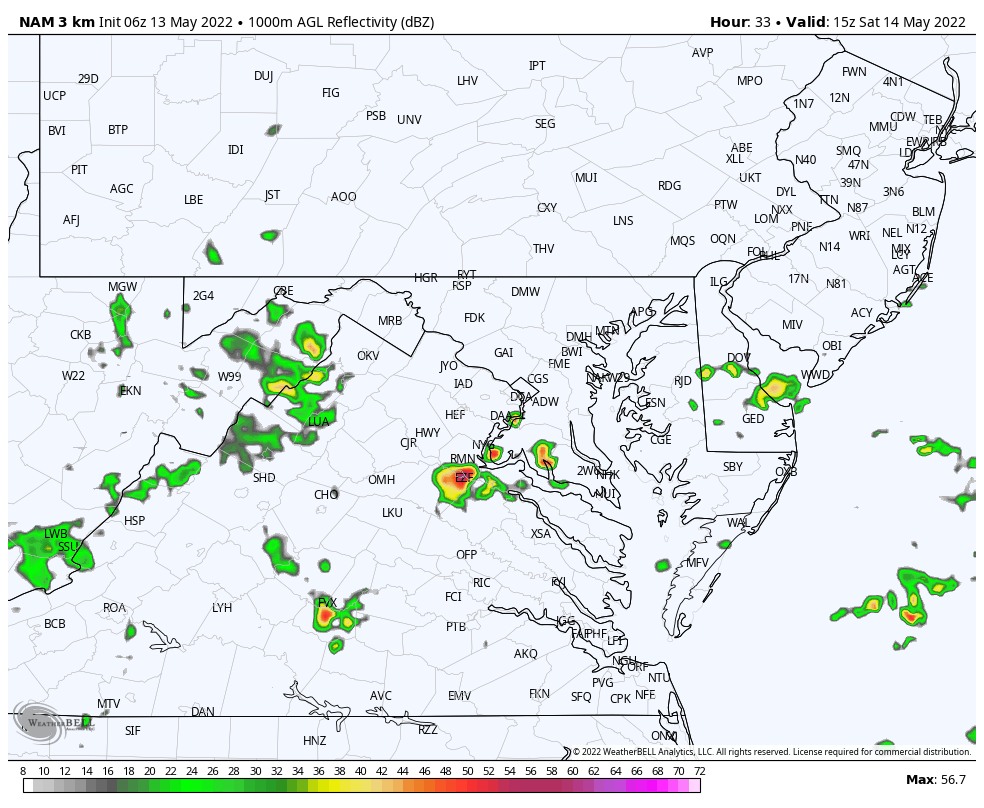 Temperatures
Morning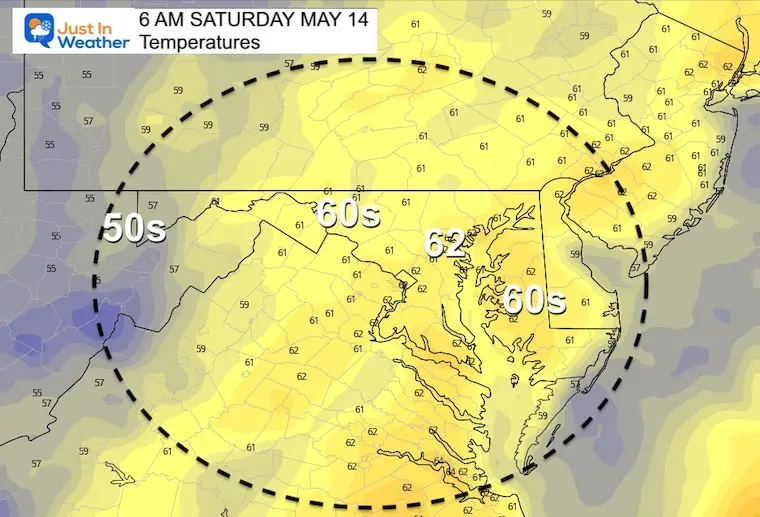 Afternoon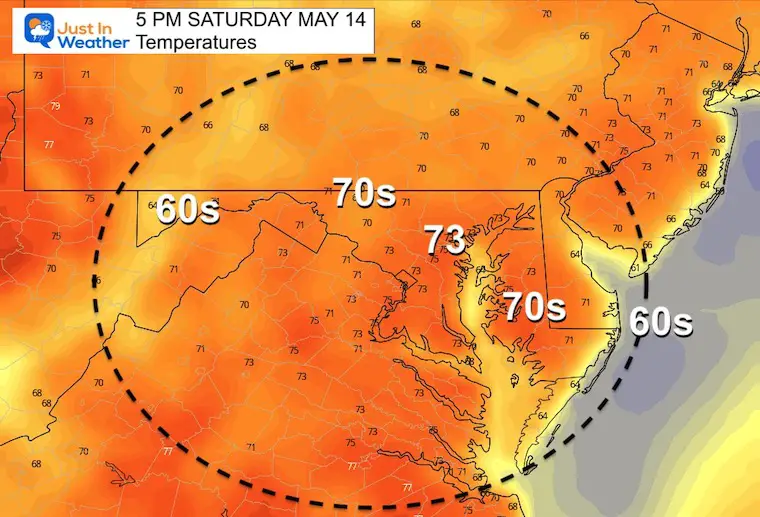 Rain Animation Friday Through Monday Afternoon
The pattern is for showers and storms, but it will NOT be a full out washout.  They will be pulsing at times through the weekend. However, there will be dry hours and spots in between. It's impossible to plot every shower, but it does seem like it will culminate with a cold front later on Monday.
After that, we get back into a nice spring warm and dry pattern next week. 
7 Day Forecast
Weekend Storms = Yes! Complete Washout? NO!
I will do my best to update the simulations to help with timing and tracking, but it will not be perfect. Good luck with your plans. Next week will improve from Tuesday onward…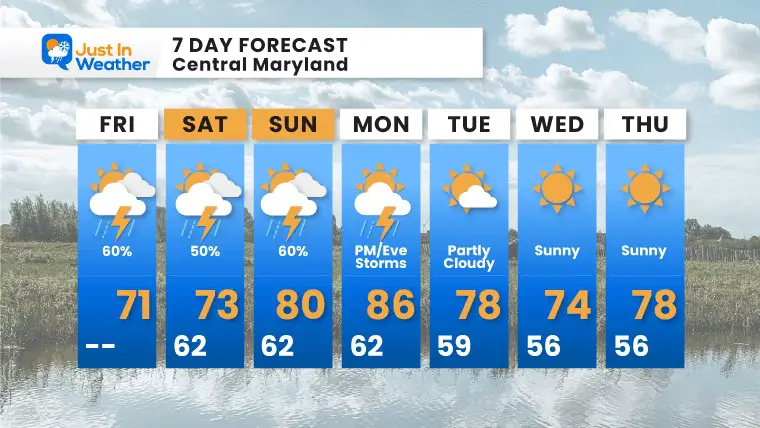 Tropical Season Begins June 1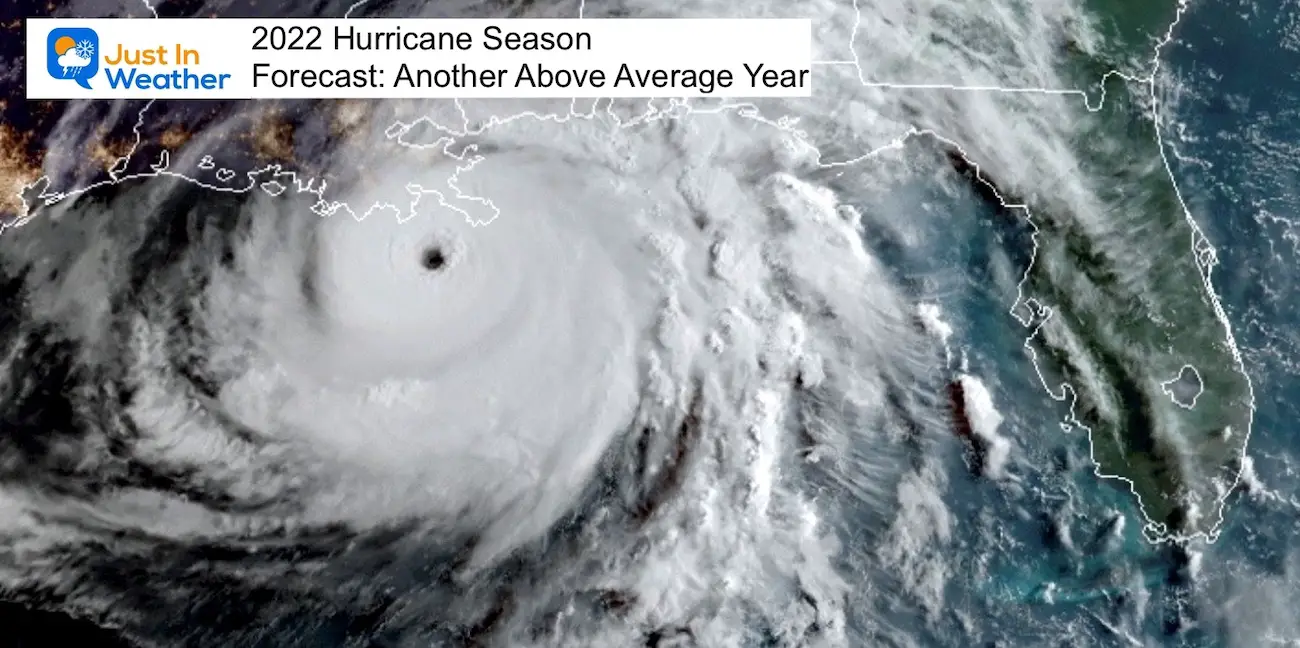 Related Posts
NOAA Study: Reducing Air Pollution INCREASED Tropical Storms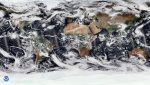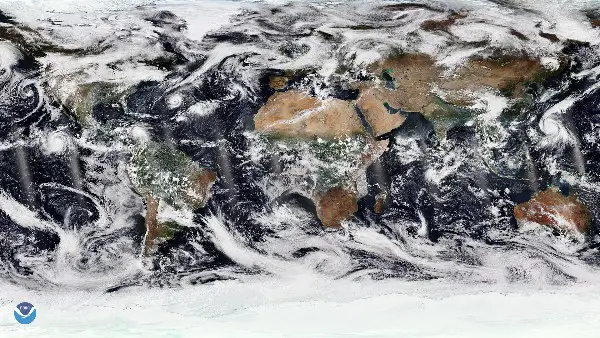 Atlantic Tropical History: Maps of Origin Regions Every 10 Days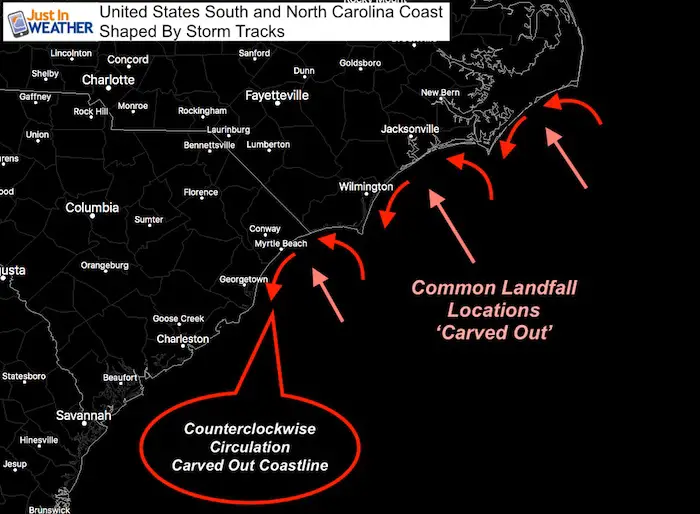 Please share your thoughts, best weather pics/video, or just keep in touch via social media
*Disclaimer due to frequent questions:
I am aware there are some spelling and grammar typos. I have made a few public statements over the years, but if you are new here you may have missed it:
I have dyslexia, and found out at my second year at Cornell.  I didn't stop me from getting my meteorology degree, and being first to get the AMS CBM in the Baltimore/Washington region. 
I do miss my mistakes in my own proofreading. The autocorrect spell check on my computer sometimes does an injustice to make it worse. 
All of the maps and information are accurate. The 'wordy' stuff can get sticky. 
There is no editor that can check my work when I need it and have it ready to send out in a newsworthy timeline. 
I accept this and perhaps proves what you read is really from me…
It's part of my charm.